ArcGIS Map
ArcGIS Maps is an interactive display of Geographic Information on the Earth. The map has a topographic Basemap that includes cities, roads, and buildings overlaid on land cover and shaded relief imagery.
You can create map in ArcGIS Desktop, and also ArcGIS Online Web server. Map Viewer or Map Viewer Classic, the map includes options to switch Basemaps, view a legend, details about the map; share, print, and measure the map; and find locations on the map. Sign Up/ Sign In to Map Viewer or Map Viewer Classic with an ArcGIS account and create your maps.
ArcGIS Map Feature
Navigator
Field maps
Story maps
Web maps
3D maps
ArcMap
ArcMap is a primary source of ArcGIS Desktop applications to create Maps.
ArcScene
ArcScene helps you to create 3D animation map.
ArcGlobe
ArcGIS Provided 3D view through ArcGlobe Application.
ArcGIS Online
The ArcGIS Online is a Cloud-based software to create and share interactive web maps. It is ESRI web-based mapping software.
Make Map with ArcGIS Online
Build interactive web maps with ArcGIS Online.
Basemaps
ArcGIS Online includes the broadest collection of current, historic, and creative Basemaps. These high-quality base maps are maintained by Esri. You can use it on its own or expand your work using other ArcGIS products. The work you do can be shared and integrated across ArcGIS.
If you are already Logged in, into ArcGIS online portal, Explore ArcGIS Living Atlas of the World, or click Go to Living Atlas. Choose any one Geographic maps from around the Globe.
Now you can create your map (ex.- Indian Railways Network), customize the map, and also sand or share it.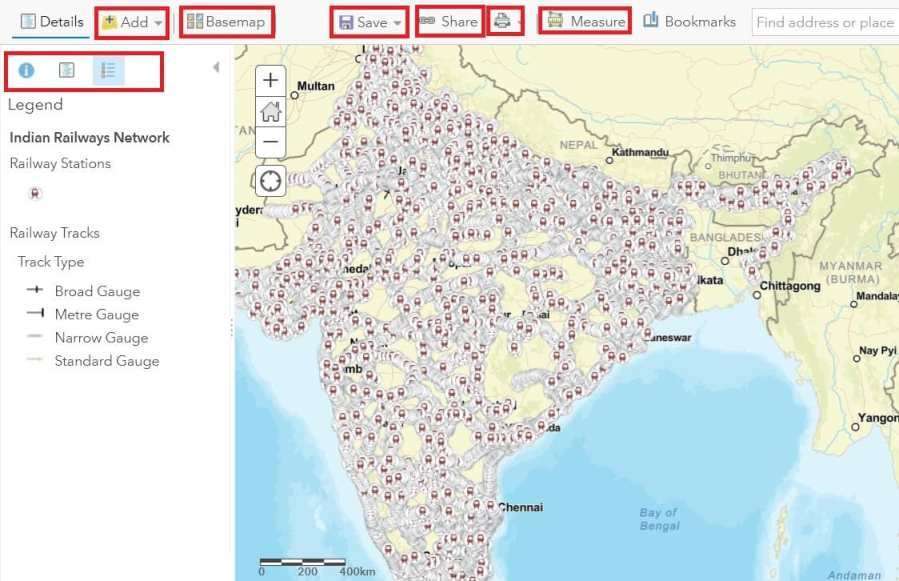 You are part of a community of people who bring spatial data and instantly share your maps with anyone, anywhere. ArcGIS offer to-
Use your data
Add location
Discern patterns
Enrich your data
Layout