ArcGIS Basemap
What is Basemap?
A Basemap provides a background of geographical context for the content you want to display on a map.
A basemap is used for locational reference and provides a framework on which users overlay or mash up their operational layers, perform tasks, and visualize Geographic information.
Basemap layers are a kind of map layer that provides a framework on to which you display your dynamic operational information.
Characteristics of GIS Basemaps
The basemap serves as a foundation for all subsequent operations and mapping.
In utilities applications, a land base of parcel boundaries, buildings, and other built features is often used as a basemap.
Many city maps use the street network as a basemap on top of which layers such as incidents and events are displayed.
ESRI Basemaps
ESRI Basemaps is a ready-to-use map that serve as the geographic foundation. It is accessing a global collection of basemaps with localized languages and geographies, which can be customized to meet your unique needs.
How to Add Basemaps in ArcGIS/ArcMap
To add basemap in ArcMap, do the following:
Steps:
1. Click the Add Data drop-down arrow and click Add Basemap.
2. The Add Basemap window appears, select anyone basemap to fit your map, and click Add.
How to Change Basemaps in ArcGIS
Change your basemap at any time, it's very simple. For ex.- you choose Topographic basemap, switch to Imagery, just click it.
Use Basemaps in ArcGIS Pro
The ArcGIS Pro basemap gallery includes several pre-made basemap layers for you to use in your maps. After you add a map to your project, the basemap can be changed from the Map tab.
How to Change Basemaps in ArcGIS Pro
You'll change the Basemap to one that emphasizes your data. Change Basemap to more clearly symbol and also the ground point.
On the Map tab, in the Layer group, click Basemap and choose Basemap.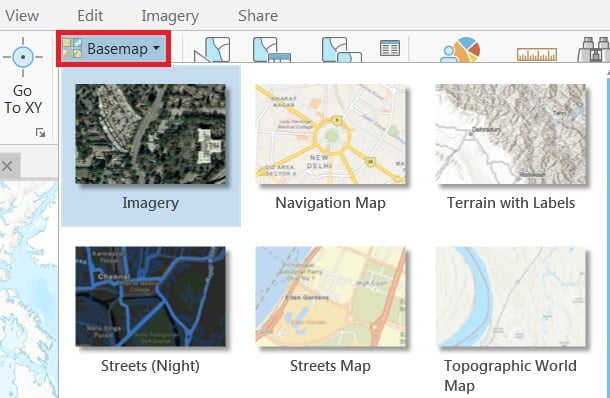 Use Basemaps in ArcGIS Online
First need to Sign up/ Lon in in ArcGIS Online Portal.
Open ArcGIS Map Viewer. In the Contents Toolbar (left side), click Basemap. See all are available Basemaps in the list.