QGIS GeoJSON
In this tutorial describes how to create a GeoJSON in QGIS.
How to create a GeoJSON in QGIS
Add GeoJSON Data
From the Layer mane, hover Add Layer and Click Add Vector Layer. Now show the GeoJSON data into the Layers Panel.
Create a GeoJSON
You can also add geojson file via a web service URL or a local networked drive. Just click the Open Data Source Manager button > Vector Data > Protocol HTTP(S), cloud, etc. > Select GeoJSON type > URI path > Add.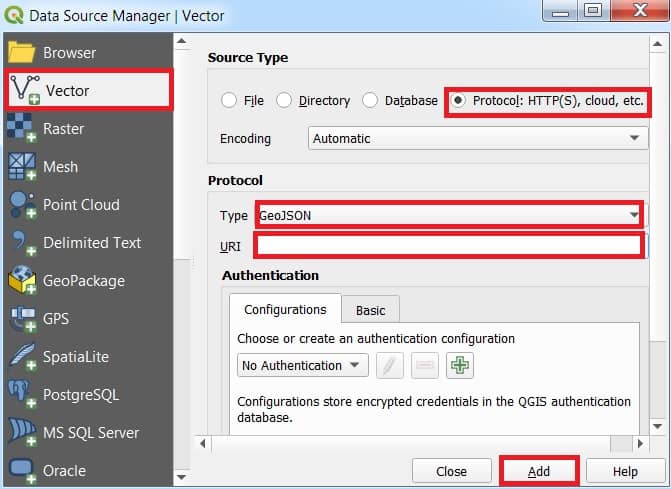 Save data as a GeoJSON
Save the file as a GeoJSON file. This can be done by clicking on the specific layer with the right mouse button and selecting the "Save as" option. Choose the GeoJSON format, a location and file name and the UTF-8 character set. Saving will create a new ".geojson" file with all the desired data.
Convert/Export GeoJSON file
In the Layer panel choose data, right click, select Export, and click Save Features As.
Save Vector Layer as window is appear, select Format (.shp), choose destination folder and enter File name, and click OK.