ArcGIS Online
In this Tutorial discuss about, how to use ArcGIS Online for free.
Functions of ArcGIS Online
Make Maps
Share Maps
Analyze Data
Field Operations
Collaborate with Colleagues
Explore ArcGIS Field Operations
ArcGIS Online ESRI
ArcGIS Online is a Cloud-based software to create and share interactive web maps. It is ESRI web-based mapping software. After log in into the portal, many different real time data and Tutorial is available here. Use smart, data-driven mapping styles and intuitive analysis tools to gain location intelligence.
ArcGIS Online Capabilities
ArcGIS Online offers to upload files including Spreadsheets, KML, GeoJSON, and common Geospatial files. Use the included tools to refine your data and prepare it for visualization and analysis.
Manage and analyze imagery and Raster data
Arc Online users can use online image, analyze imagery and raster data, just as you do with Vector data.
Find the best location & use optimal directions and routes
It's helps for your Business to find best Location to your success. Arc Online analysis tools help you to Identify the best routes, Calculate travel costs by time and distance.
Share your maps Publicly for, Drive awareness, Access anyone, anywhere to see your maps.
ArcGIS Online Sign up/Log in
First need to Sign up or Create an Account in ArcGIS Online Portal. You are already Sign up, just Login in this portal.
Now Successfully Sign up/Sign in, use for free ArcGIS Online.
ArcGIS Online Price
For Business
Creator
Feature
Create maps and apps with your data
Analyze data to understand trends
Share maps with stakeholders in a variety of ready-to-use apps
Credits
Feature
Use credits to consume premium services in ArcGIS Online
1,000 credits for use in ArcGIS Online
Use credits within 24 months
For Individual
ArcGIS for Personal Use
Feature
GIS software, data, and training for personal use
Great for graduates and GIS professionals
ArcGIS for Student Use
Feature
GIS software, data, and training for students
Great for students in all areas of study
ArcGIS Online Tutorial
You can share maps and Geographic information with others through Arc-GIS Online, including maps, map layers, features, imagery, and analytic results.
ArcGIS – Map Viewer
Use Map Viewer to view, explore, and create web maps in Arc Online. Navigate the map to view various areas.
1. Open ArcGIS Map Viewer
2. Map Viewer includes two vertical toolbars, i) Contents (left side) toolbar and ii) Settings (right side) toolbar


Use the Contents toolbar to manage and view the map contents.
Use the Settings toolbar to access options for configuring and customize with map layers.
Map Views
1. In Map Viewer, open the map containing the layer or Add layer on the Layers tool.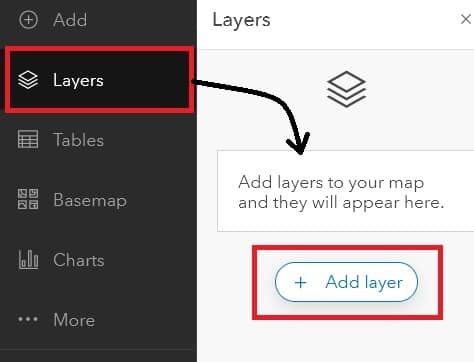 2. Click to Add layer button, show the two types of data; i) ArcGIS Online ii) Livng Atlas. Choose your requirement data, and select it.
You can also Search the data, in the search box.
3. Once you have select the data, click Add to map button.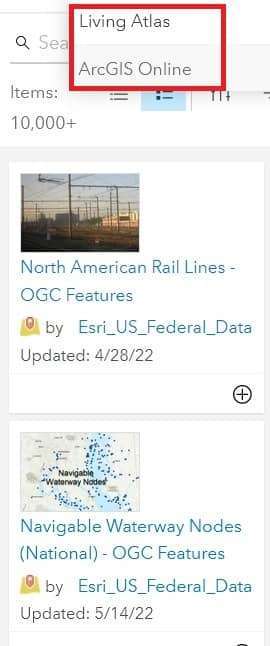 4. Show your data in map section. Also appear the Properties window on the right side bar.
Now customize your data, and also remove the data at any time for add the dataset.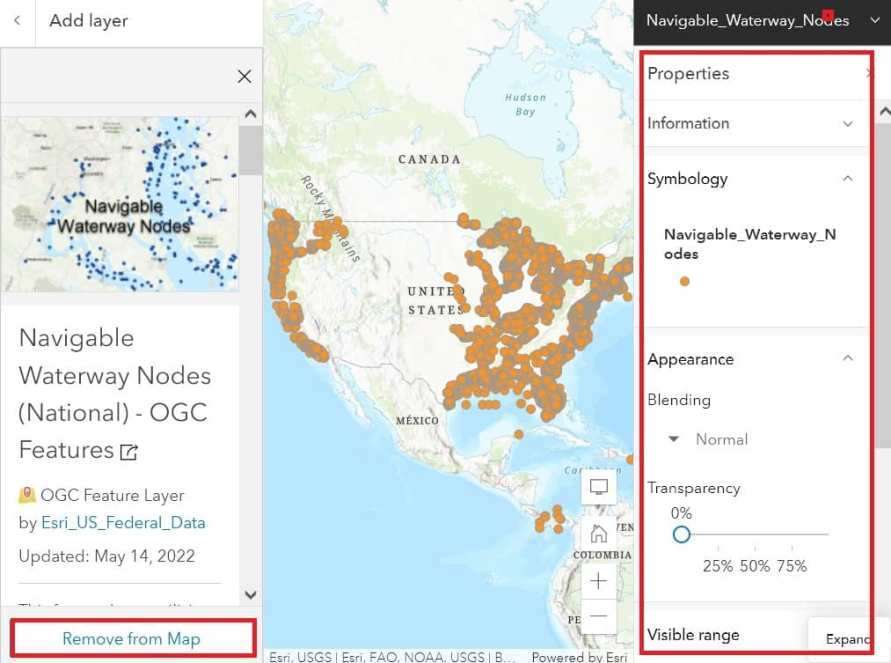 ArcGIS Software Online Use
If you are use to ArcGIS Software, and it's already Install in your system, it is easy to use.
ArcMAP Online
Open ArcMAP, and go to the Standard Toolbar.
Select Add Data Button, and choose Add Data From ArcGIS Online.

Now appear ArcGIS Online Window, search data in Search box.
For ex.- search 'USA Agricultural Data', and show the all Agriculture related Data. Now you can choose your required data, and click (2)Add button. You can also show the full details of data, just click (1) Details button.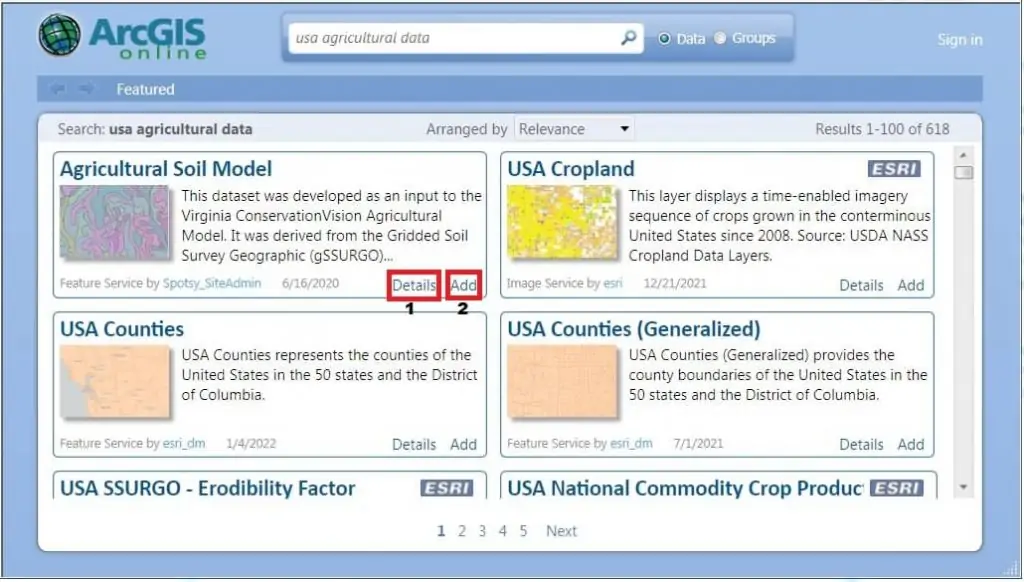 In some cases you can't use to online Data, especially ESRI marking Data. First Sign in, then add this type of data.

Add Data in ArcMap, create Spatial Analysis, Cartography, 3D Analyst, etc.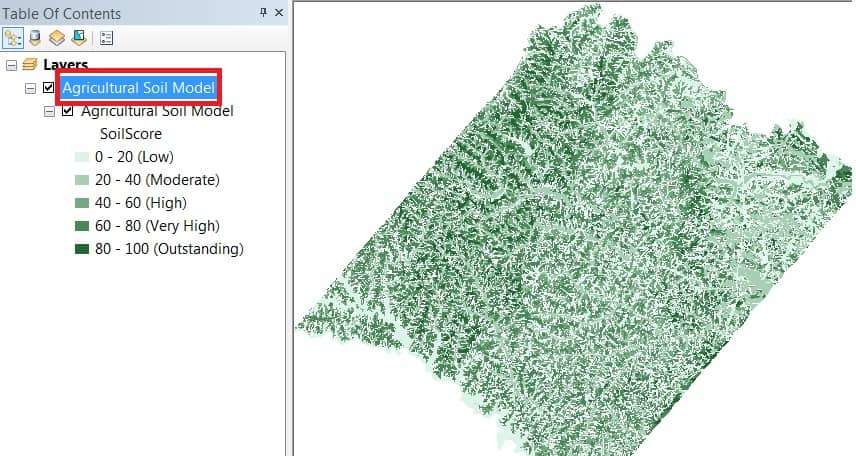 You can also add 3D Basemaps to your globe document, for better understand.
ArcCatalog
Connected to ArcGIS Server in ArcGIS for Desktop
ArcCatalog and the Catalog window in ArcGIS for Desktop allow you to add connections to an ArcGIS Server site for using GIS services.
Steps:
1. In the Catalog tree, expand the GIS Servers node.
2. Double-click Add ArcGIS Server.
3. Choose Use GIS services and click Next.
4. For the Server URL, type the URL of the ArcGIS Server site you want to connect to, for example, https://gisserver.gisrsstudy.com:6443/arcgis/online
5. Enter your User Name and Password. Optionally, you can choose to save your user name and password.
6. Click Finish. Your connection appears in the GIS Servers node in the Catalog tree.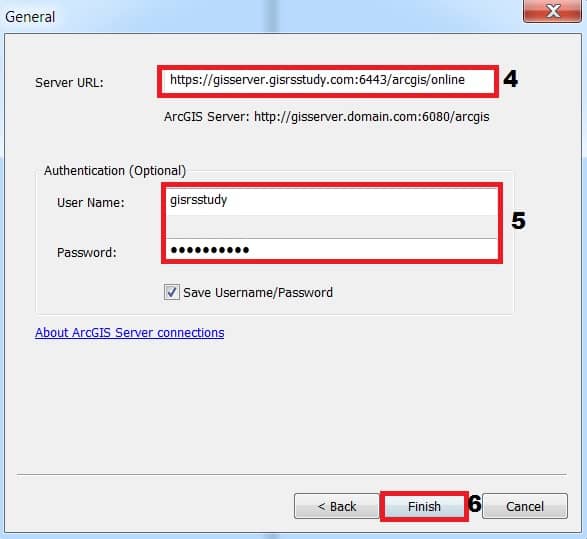 [Note: Specifying the server URL
When you attempt to connect, you'll be asked to type the URL to your ArcGIS Server site. For user connections, you'll often include the name of the ArcGIS Web Adaptor in your URL. This will look like https://gisserver.gisrsstudy.com:6443/arcgis/online.
For publisher and administrator connections, access through the Web Adaptor is blocked by most organizations. Instead you will need to use the administrative URL of the server, which takes the format https://gisserver.gisrsstudy.com:6443/arcgis/online.
Some sites may require an HTTPS connection through port 6443. Check with your server administrator if you are unsure of the appropriate URL to use.
If you receive an error when connecting, it may be because:
You typed an incorrect name or password
You did not use your server's expected protocol of HTTP or HTTPS
You did not include the fully qualified domain name of the server (which is required in scenarios where the server is federated with Portal for ArcGIS)]