QGIS Online (Cloud)
QGIS Cloud or Quantum GIS Online is one of the powerful Web-GIS platform for publishing maps, data and services on the Internet.
It is your personal Spatial Data Infrastructure (SDI), create and share spatial data with others.
If you use QGIS Desktop, simply install the QGIS Cloud plugin from the official QGIS plugin repository and you are ready to go create maps, and Publish as many maps as you want.
QGIS Cloud Features
Create Maps
Manage Data
Share Data
Print Maps
Online Security
Q-Web Services
WMS (Web Map Service)
WFS (Web Feature Service)
WFS–T (Web Feature Service Transaction)
WCS (Web Coverage Services)
QGIS Cloud Offers
QGIS Server, the OGC compatible map and data server
PostgreSQL/PostGIS databases
Full featured of Web-GIS
Modern mobile GIS
High-quality map printing for any desired paper format (up to 1200 dpi)
Web Map Services
Access control for your maps and data
QGIS Online (Cloud) Tutorial
At first Sign up/ Sign in to the Q-Cloud Portal.
QGIS Desktop
1. You have already Installed QGIS, that is desktop QGIS, Select Plugin Tab in menu bar, and choose > Manage and Install plugins.
2. Open Plugin Dialog, Search 'QGIS Cloud', show the result- QGIS Cloud plugin > Install plugin.
3. Also Install the Open Layers plugin. Plugins > Filter 'Open Layers' > Install plugin. This is used for background maps.
4. In the QGIS Plugin Toolbar, see the QGIS Cloud symbol

just click and open the QGIS Cloud window.
5. You are already completing the Sign-up process, just Log in from the QGIS Cloud plugin.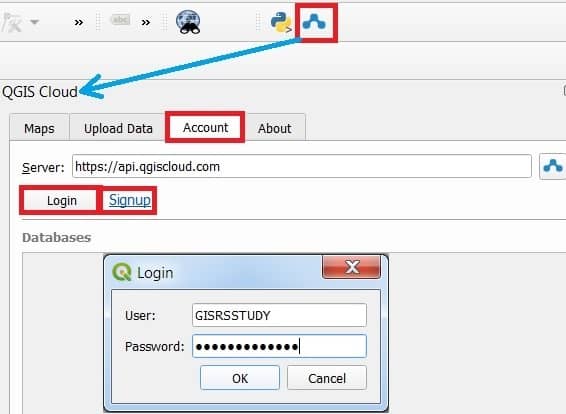 Web QGIS
Now Add Background in the QGIS Cloud plugin.
1. In the Map section, click Add Background Layer, choose any types of Base map as you want. (Ex. Bing Maps > Bing Aerial with labels)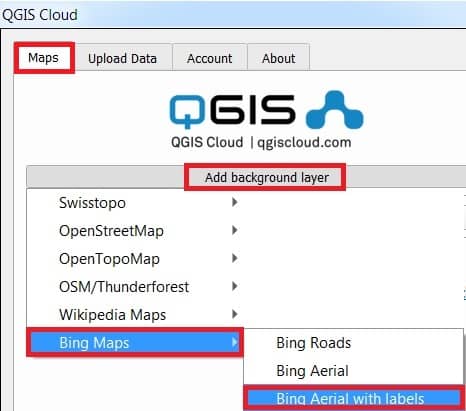 2.The next step is Create a new Layer (ex. NIC) and create Maps Database.
3. Complete your map creation, now Publish Map. Publish your map see the full details in below. Just click Web map section, your map open in the web QGIS Cloud platform.
Web QGIS Map
In the QGIS Cloud web platform, the Map section shows your Map to Live.
QGIS Cloud Pro
QGIS Cloud Pro plan only 65 Euro/month. The lot of features available in pro plan. For more details, follow the Table below:
| Feature | QGIS Cloud Free | QGIS Cloud Pro |
| --- | --- | --- |
| WebGIS Client on / off | ✖ | ✔️ |
| Mobile Client on / off | ✖ | ✔️ |
| WMS Access password protected | ✖ | ✔️ |
| WebGIS Client password protected | ✖ | ✔️ |
| Default Language for WebGIS Client | Czech, Dutch, English, Finnish, French, German, Hungarian, Italian, Norwegian, Polish, Portuguese, Romanian, Russian, Spanish, Swedish, Turkish | Czech, Dutch, English, Finnish, French, German, Hungarian, Italian, Norwegian, Polish, Portuguese, Romanian, Russian, Spanish, Swedish, Turkish |
| Identify Modes | Top most Hit, Active Layers, All Layers | Top most Hit, Active Layers, All Layers |
| Search types | OpenStreetMap Search | OpenStreetMap Search, GeoNames Search, Customizable Database Search |
| Fixed scales | ✔️ | ✔️ |
| Customizable WebGIS Client | ✖ | ✔️ |
| User Administration | ✖ | ✔️ |
| Number of Databases | 1 | 10 |
| Editing in WebGIS client | ✖ | ✔️ |
| Available space for Data | 50MB | 500MB |
| SSL support | ✔️ | ✔️ |