QField Cloud Tutorial
What is QField?
QField is the most powerful and efficient way to manage your data, and the professional mobile app for QGIS.
It is help you for all your fieldwork needs, and also allowing users to deploy their existing projects to the field.
What is QField Cloud?
QField Cloud allows you to synchronize and merge the data collected by in QField.
QFieldCloud code is open source, so you can see what is actually happening to your data.
Features:
Synchronize and merge the data
Team management
Integrates with your GDI
Hosted in your own cloud
Download QField
Download the QField Field Collection App for QGIS:
QField Cloud Tutorial
At first create a account in QFieldCloud portal, Go to the Registration/Sign up page.
Connection to QFieldCloud on QGIS Desktop
Connect to QFieldCloud on QGIS Desktop, you need the Plugin "QFieldSync".
Install QFieldSync Plugin
Open the QGIS plugin manager, going to the Plugins Tab in menu bar, and choose Manage and install Plugins.
Type QFieldSync in Search bar and install the latest version by clicking the Install Plugin button.

After successful installation plugin, a new toolbar appears.

If you cannot see the toolbar, ensure QFieldSync is checked under View > Toolbars.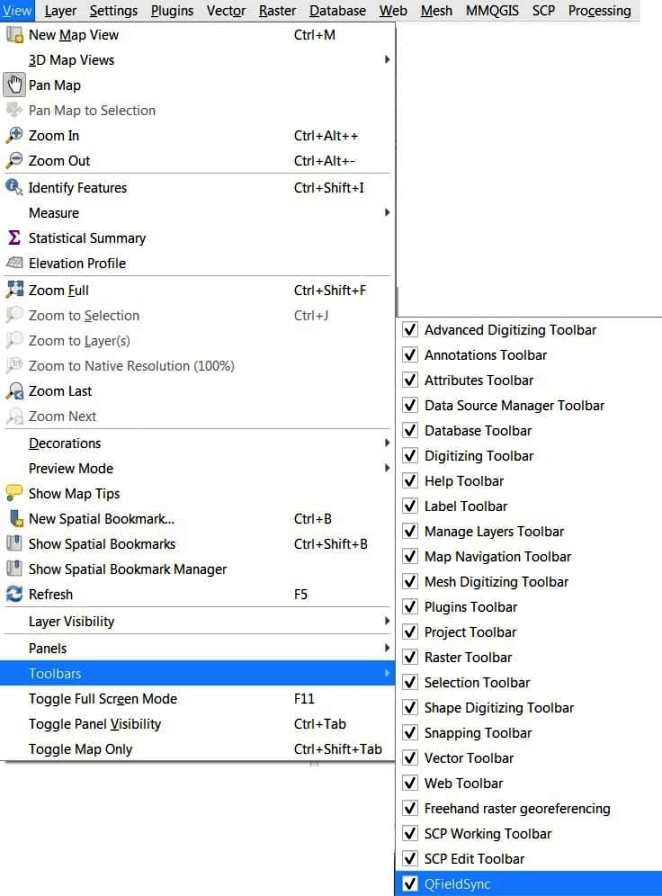 QFieldSync Tools
QFieldCloud Project Overview
Synchronize Current Cloud Project
Package for QField
Synchronize from QField
Configure Current Project
QFieldCloud Project Overview
Click the cloud icon
in the QFieldSync toolbar. A new login screen will appear: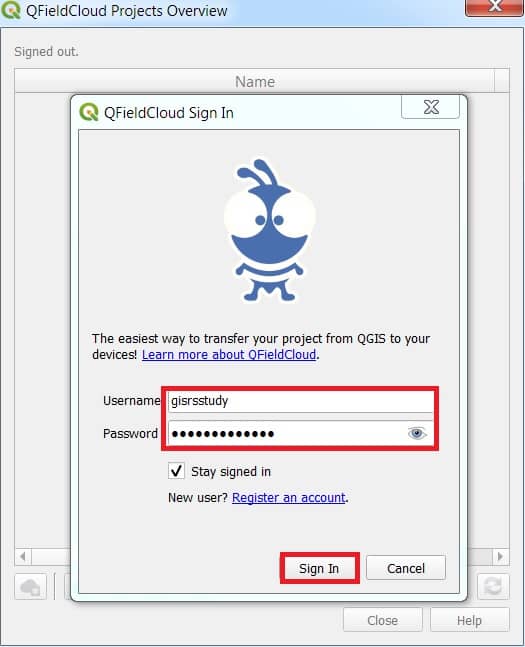 Enter username and password. Explore the projects overview screen, a cloud button to create a new project and, on the right, a refresh button to grab the freshest project list. Newly registered users will see an empty table and as soon as they create new projects, the list will grow. The projects overview screen looks like this: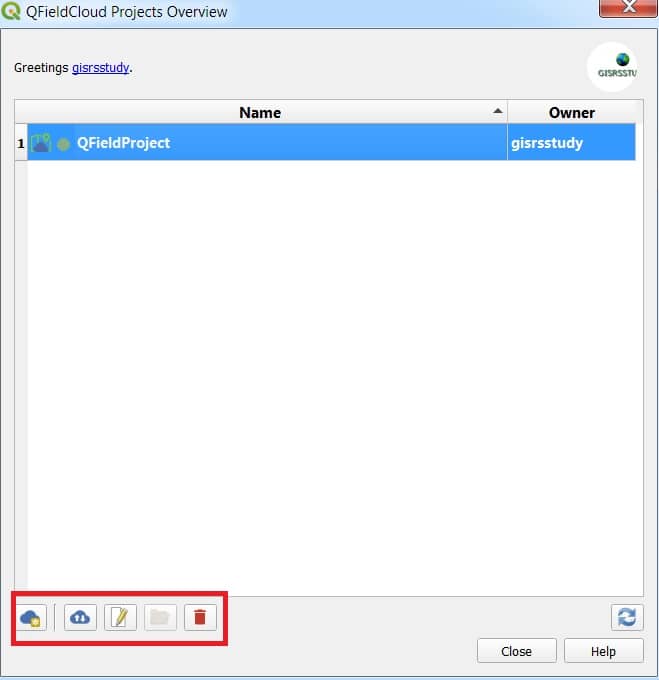 Synchronize Current Cloud Project
Synchronize your Current Cloud Project.
Package for QField
Package tool help you to Export your project data folder.
Synchronize from QField
Make a change to your project. Either create a new feature, delete a feature, or modify the geometry or attributes.
Configure Current Project
Configure the project layers by clicking the fifth icon in the QFieldSync toolbar
. Most of the time you need to configure a preference either to online or offline layers. For more fine grained control, in the advanced settings you can configure the action layer by layer. Get more information about how to configure your layers in the Get Started guide for QFieldSync.