Data Driven Pages ArcGIS
What is Data Driven Pages?
The Data Driven Pages helps you to quickly and easily create a series of layout pages from a single map document in GIS. It's use to build a map book you need to use Arcpy.mapping.
Data Driven Pages can be based on a regular grid of polygons. You can create Data Driven Pages, based on a route, such as a highway, or along a river.
Data Driven Pages Tool & Toolbar
To work with Data Driven Pages, there is a toolbar that can be enabled by clicking Customize menu, then clicking Toolbars, and choose Data Driven Pages.
In ArcToolbox, Cartography tools, there is a Data Driven Pages toolset that contains special geoprocessing tools that work with Data Driven Pages.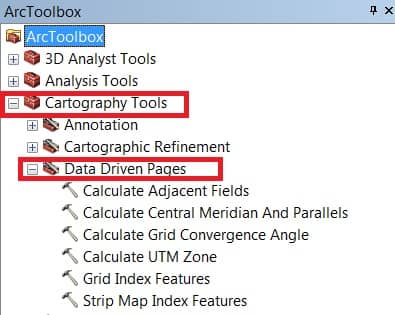 Create Data Driven Pages in ArcGIS
Click the tab to Open the Data Driven Pages Setup window.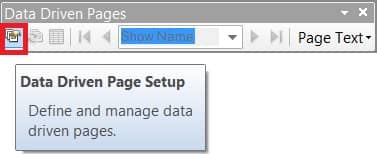 Setup Data Driven Pages
ou create and customize new Data Driven Pages using the Setup Data Driven Pages dialog box.
This dialog box contains two tabs: Definition and Extent. You can activate this dialog box from the Data Driven Pages toolbar or from the Page and Print Setup dialog box.
Definition tab
The Definition tab helps you to select the index layer that drives the geographic extent for each page. You can also choose fields to use to name and sort the pages.
There are also available optional settings for map rotation, spatial reference, page number, and scale.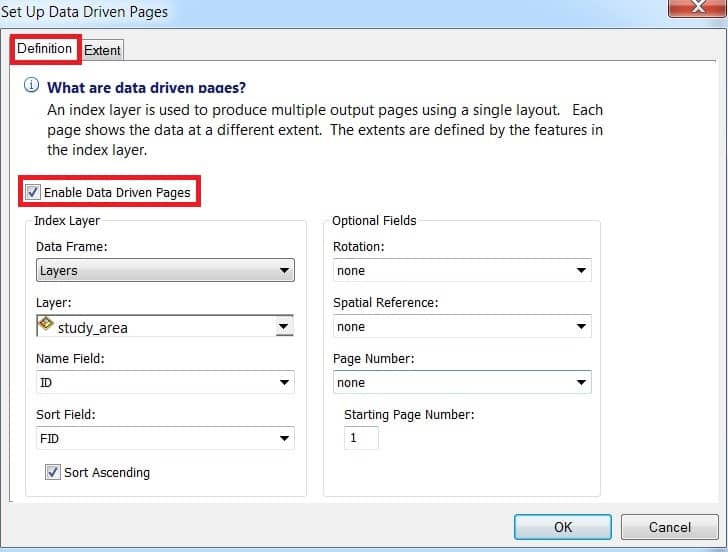 Extent tab
The Extent tab helps you to define the margin between the edges of the data frame and the index feature for each page.
There are three options:
Best Fit
Center and maintain current scale
Data Driven Scale.
Data Driven Pages ArcGIS Pro
ArcGIS Pro does provide the ability to create a series of layout pages from a single layout similar to Data Driven Pages in ArcMap, but in ArcGIS Pro, the term Map Series is used to describe the functionality. Both are use an index layer to define the extents of the map frame.
Comparison between Data Driven Pages and Map Series
| Data Driven Pages (ArcMap) | Map Series (ArcGIS Pro) |
| --- | --- |
| A geoprocessing toolset and requires activating the Data Driven Pages toolbar | Not a geoprocessing toolset |
| Index layer is created using the Grid Index Features tool or Strip Map Index Features tool | Any feature layer can be added as an index layer. |
| The Setup Data Driven Pages dialog box is used to create and customize Data Driven Pages | The Layout Properties dialog box displays the Map Series elements |