3D Map QGIS
QGIS offers, creating 3D maps and visualizations is easy and quickly.
In QGIS you can create a 3D model in a few simple steps.
1. Add a Data layer that contains 3D data, like a DEM
2. Open a new 3D Map View, go to View manu > New 3D Map View (shortcut- Ctrl+Alt+M)
3. 3D Map View window appear, open the configuration options.
4. Select Terrain, set 'Type' to 'DEM (Raster Layer)' and select your data layer from the drop-down.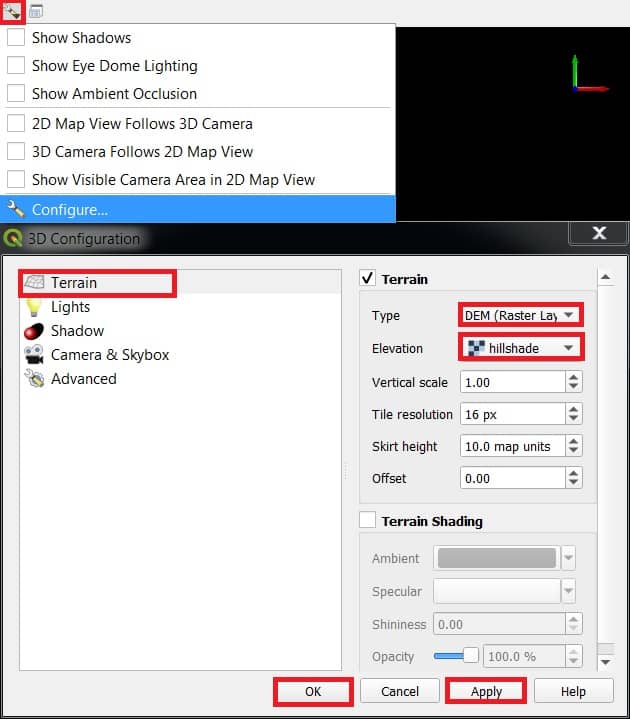 5. Adjust the view angle to show the 3D attributes.
6. Finally click Apply, then Ok button.
3D Map View Toolbars

Camera Control
Zoom Full
Toggle On-Screen Nagigation
Identity
Measurement Line
Animations
Save as Image
Export 3D Scene
Set View Theme
Options
Dock 3D Map View
Add 3D View to a Map Layout
Create a new map layout
On the Project manu, select New Print Layout.
Create Print Layout window appear, write the layout name.
Select Add 3D map from the toolbox or from the Add Item drop-down on the main menu
Click and drag to specify the location of the 3D map
Select your 3D Map View from the Copy Settings from 3D View drop-down
Select your 3D Map View from the Set From a 3D View drop-down
Now your 3D view will appear in the map layout.