Digital Elevation Model (DEM) Download
Best 6 Free Sources for Download DEM Data
1. USGS Earth Explore
Earth Explorer provides a wide range of data, download for earth science data from the archives of the United States Geological Survey (USGS).
How to Download DEM
1st step to Search Criteria in Earth Explore.
In Data Sets, select Digital Elevation, and Result button.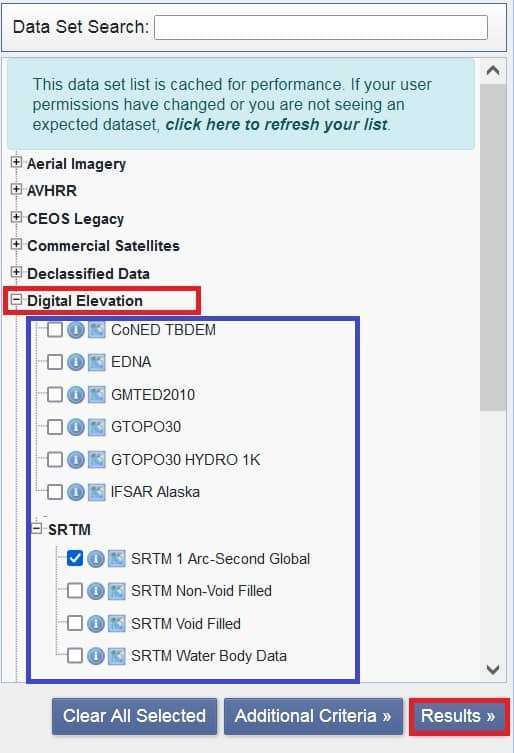 See the list of all data sets. Click Footprint to show data area in the map section.
You must be logged in to the USGS Earth Explore portal for download data.
Click the Download option
for download Digital Elevation data.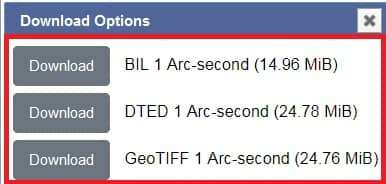 2. OpenDEM
Open Digital Elevation Model (OpenDEM) the Portal for sharing the 3rd Dimension.
Visit the OpenDEM portal, and select Download.
5 options are available in the download section;
SRTM
High Precision XYZ Data
SRTM based Contour Lines
Bathymetry
OpenDEM Tacker Data
Select your required data and downloaded it.
For e.x- download SRTM data. 2 options are available; i) SRTM Digital Terrain Model, ii) SRTM Digital Surface Model
3. Bhuvan NRSC
Bhuvan NRSC allows you to access a variety of content, IRS imagery, map and Terrain data.
Download Process
Open the Bhuvan web portal. On the Home page, select Open Data Archive.
On the Open Data Archive page, select category – Satellite / Sensor, next select sub-category, choose Cartosat-1, last select product – CartoDEM Versions
[The Cartosat-1 Digital Elevation Model (CartoDEM) is a National DEM developed by the Indian Space Research Organization (ISRO). It is derived from the Cartosat-1 stereo payload launched in May 2005].
Finally, select your CartoDEM Version, now follow the process to download data
4. JPL-NASA (SRTM)
JPL (Jet Propulsion Laboratory)-NASA provides SRTM C-band Radar data.
Visit JPL portal, select Data Products.

On the Data Products page, see the list of data files from different countries.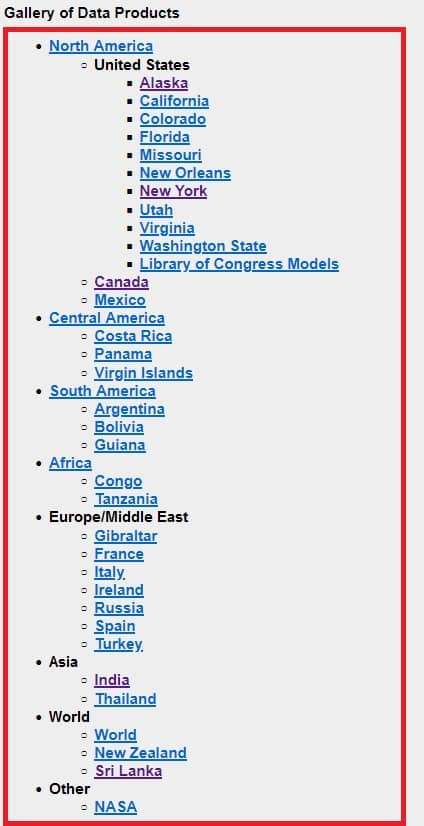 Select your required data, and downloaded it.
5. JPL-ASTER Global DEM
ASTER Global Digital Elevation Map (GDEM) Announcement the download World DEM map.
2 GDEM available for download.
GDEM Colorized Map
GDEM Black & White Map
6. JAXA EORC ALOS
JAXA EORC ALOS (Advanced Land Observing Satellite) provides High Resolution Map/Data.
Visit the ALOS portal. On the Dataset section, select your data.
Download the data, first Register in the ALOS portal.
Registration process is completed, now you have access to download the data files.