Digital Image Processing in Remote Sensing
A Digital Image is a representation of a two-dimensional image as a finite set of digital values, called picture elements or pixels.
Pixel values typically represent gray levels, colours, heights, opacities etc. Digitization implies that a digital image is an approximation of a real scene.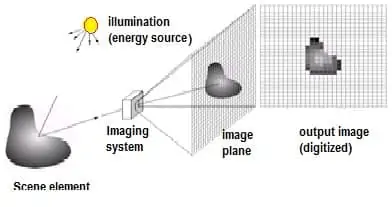 Digital image processing (DIP) focuses on 2 major tasks:
Improvement of pictorial information for human interpretation
Processing of image data for storage, transmission and representation for autonomous machine perception
The continuum from image processing to computer vision can be broken up into low-, mid,- and high-level processes
Low Level Process
Input -Image
Output-Image
Examples-Image sharpening, Noise removal
Mid Level Process
Input-Image
Output-Attributes
Examples-Segmentation, object recognition
High Level Process
Input-Attributes
Output-Understandings
Examples-Scene understanding, Autonomous navigatiion
Key Stages in Digital Image Processing
Image Restoration
Morphological Processing
Image Enhancement
Image Acquisition
Image Compression
Segmentation
Object Recognition
Representation & Description
Colour Image Processing
Image Processing