ArcGIS Publisher Tutorial
What is ArcGIS Publisher?
ArcGIS Publisher offers you to easily share digital versions of maps and data through ArcMap or ArcGlobe and ArcGIS Pro. It's helps you to convert ArcGIS Pro maps to mobile map packages viewable with the free ArcGIS Explorer app for Android and iOS.
Features
Easily share maps with the public
Automatically create & update maps
Works on iOS & Android smartphones
The maps are stored on your local device
Build custom versions of ArcReader for your viewing audience.
Publisher Extension
Publisher is an optional extension you can install on your ArcGIS Desktop. The Publisher converts ArcMap (.mxd) and ArcGlobe (.3dd) documents into the published map format (.pmf) used with ArcReader.
Enabling the Publisher Extension in ArcMap
Before you can work with Arc-GIS Publisher, you must enable it in ArcMap or ArcGlobe.
Click the Customize menu in ArcMap or ArcGlobe.
Click Extensions and check Publisher.
Finally, click Close button.
Publisher Toolbar
Open the Publisher Toolbar, go to the Customize menu, select Toolbars, and click Publisher.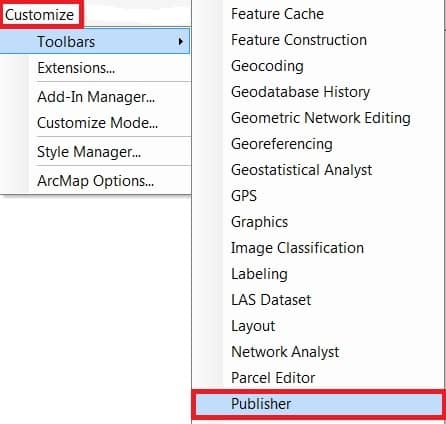 Publisher Manu
Publish Map
Create Data Package
Import ArcReader Markup
Publish Maps
1. Open a map document in ArcMap.
2. Click the Publish Map button
. or click the Publisher menu, then click Publish Map.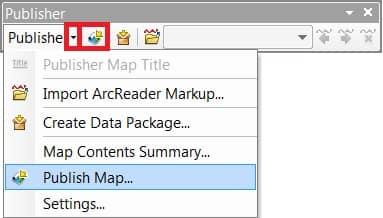 3. Navigate to your local folder and click Save.
A published map saved .pmf format, and open in ArcReader as it does in ArcMap.