Explore Google Earth Web
What is the Google Earth Web?
Google Earth Web is an advance Earth version to explore worldwide satellite imagery and 3D buildings and terrain.
Earth Google Web is the world's most detailed globe. It's offer to create your own project, Download and Share with anyone.
How to Use Google Earth Web?
Open Google Earth Web in your Browser.
General Tabs
In these general options you can Reset, Rotate map, view 2D/3D, Fly map, and also Street view.
Zoom In/Out
Press '+' to zoom in map and '−' to zoom out map.
General Setting
Before you explore or create a project in the web, reset general.
Expand the Manu tab, select Settings. Now Settings window appears, set Animation, Display, Formats and Units.
Manu bar
On the Left side show the Earth Web Menu;
Search
Voyager
Projects
Map Style
Photos
Settings
Feedback
Help
Search
Search tool helps you to find any Location. Click the Search button, and search your place.
Voyager
Voyager is an option to explore different categories of importance and beautiful places, like; Nature, Culture, Travel, Education, Street view, and more.
Projects
Project is the main important part of Earth Web. You can create your projects easily on the web.
Expand menu tab, and select Project. On the project section, two options are available; i) Open project, and ii) Create project.
You can directly import your project in web, from Google drive or your system local storage. Make sure the file format always is KML.
Make a new project, drop-down Create button, and select your project storage. You can choose Google drive or your Local storage.
To add a Title and description, click Edit
.
Click drop-down New Feature button.
Three options are available to continue your project;
Search to add place
Add Placemark
Draw Line or Shape
Earth web offer to search place directly add your project.
You can also create a project to add Placemark (point) or Draw area (polygon) as per your project's requirement.
Select the project you want to copy. Click More actions
> Copy project.
Already you create a shape, now customize your project file.
Title, description, color, and also Attribute information (Latitude, Longitude, Altitude).
Map Style
The Map Style feature offer to you how to view your web map.
It has Clean, that means no borders, labels, places, or roads.
Also, you can choose Exploration, Everything, or manually customize.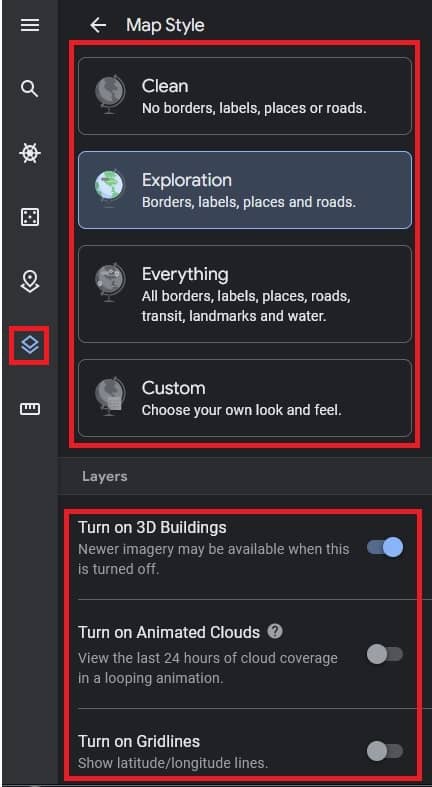 On the Layer section, Turn on/off 3D Buildings, Cloud cover, and also Grid Lines (Latitude, Longitude).
Measure
The measure tool helps you to measurement distance or area.
Measurements of distances may not be 100% accurate, especially in areas with 3D terrain and buildings.
[Note: Measurements don't account for changes in elevation.]
Photos
On the Photos tab, slide to show/hide earth web photos.
Settings
On the General Setting, already discuss Settings.
Feedback
In the feedback section, send your Feedback for overall experience to use earth web.
Help
Google Earth helps you to, how to access and managed earth web.
Difference between Google Earth Web vs Pro
Google Earth web is Web version, Pro is Desktop version.
Web available on Chrome and other more browsers. use Pro to create maps with advanced tools on PC, Mac, or Linux.
Web use in your Browser, on the other hand Pro is download format.
Web not needed installation, but Pro need to installation, otherwise you can't use it.