Satellite
A Satellite is an object in space that orbits or circles around a bigger object. There are two types of satellites: i) Natural; such as the Moon and Earth, and ii) Artificial; such as the Landsat, SPOT, IRS, Quickbard, Aster, Ikonnos, and more. The First Satellite in Space
Sputnik 1, launched Soviet Union launched in 1957.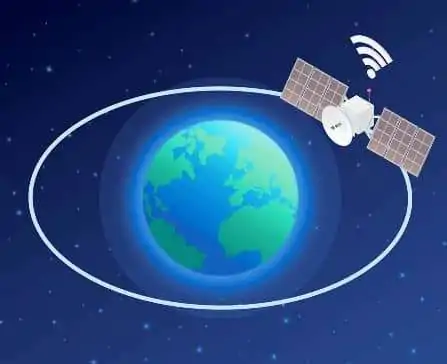 Man-made (Artificial) Satellite are used mainly for Earth Observation, like; Land research, Natural resource management, Disester, Coastal management, and many more. Other uses for, Communications, such as TV signals and phone calls etc. A group of more than 20 satellites make up the Global Positioning System (GPS). GPS receiver, helps you to figure out your exact location.
Name of a Satellites
Landsat
SPOT
Sentinel
Terra
EnviSAT
RADARSAT
ResourceSAT
CartoSAT
METEOSAT
CloudSAT
IceSAT
KOMPSAT
SkySAT
SciSAT
ACRIMSAT
IKONOS
Quickbird
NOAA
Worldview
GeoEye
RapidEye
Pleiades
Megha-Tropique
PlanetScope (Dove)
DMC
GNSS
SRTM
GRACE
GOCE
ALOS
MMS
TerraSAR (TanDEM-X)
MOLA
SeaStar (Orbview-2)
JASON
QuickSCAT
SMOS
TRMM
GOES
Aqua
Aura
Suomi
CALIPSO
TIROS
POES
SMAP
Corona
CBERS
PROBA
Earth Observing-1 Mission (EO-1)
List of Satellites
Geostationary Orbit Satellite (Year 2000-2022)
| Satellite Name | Launch Date | End of Life | Programme | Altitude |
| --- | --- | --- | --- | --- |
| COMS | 26 Jun 2010 | 01 Apr 2021 | Communication, Oceanography and Meteorology Satellite | 35786 km |
| GEO-KOMPSAT-2A | 04 Dec 2018 | ≥2029 | Communication, Oceanography and Meteorology Satellite | 35786 km |
| GEO-KOMPSAT-2B | 18 Feb 2020 | ≥2031 | Communication, Oceanography and Meteorology Satellite | 35786 km |
| Electro-GOMS | 31 Oct 1994 | 15 Nov 2000 | Electro | 35786 km |
| Electro-L N1 | 20 Jan 2011 | 2016 | Electro | 35786 km |
| Electro-L N2 | 11 Dec 2015 | ≥2025 | Electro | 35786 km |
| FY-2B | 25 Jun 2000 | Sep 2004 | Feng-Yun – 2 | 35786 km |
| FY-2C | 19 Oct 2004 | 23 Nov 2009 | Feng-Yun – 2 | 35786 km |
| FY-2D | 08 Dec 2006 | Jul 2015 | Feng-Yun – 2 | 35786 km |
| FY-2E | 23 Dec 2008 | 31 Dec 2018 | Feng-Yun – 2 | 35786 km |
| FY-2F | 13 Jan 2012 | ≥2022 | Feng-Yun – 2 | 35786 km |
| FY-2G | 31 Dec 2014 | ≥2022 | Feng-Yun – 2 | 35786 km |
| FY-2H | 05 Jun 2018 | ≥2022 | Feng-Yun – 2 | 35786 km |
| FY-4A | 10 Dec 2016 | ≥2023 | Feng-Yun – 4 | 35786 km |
| FY-4B | 02 Jun 2021 | ≥2028 | Feng-Yun – 4 | 35786 km |
| GOES-8 | 13 Apr 1994 | 05 May 2004 | Geostationary Operational Environmental Satellite – 2nd generation | 35786 km |
| GOES-9 | 23 May 1995 | 22 May 2003 | Geostationary Operational Environmental Satellite – 2nd generation | 35786 km |
| GOES-10 | 25 Apr 1997 | 01 Dec 2006 | Geostationary Operational Environmental Satellite – 2nd generation | 35786 km |
| GOES-11 | 03 May 2000 | 05 Dec 2011 | Geostationary Operational Environmental Satellite – 2nd generation | 35786 km |
| GOES-12 | 23 Jul 2001 | 10 May 2010 | Geostationary Operational Environmental Satellite – 2nd generation | 35786 km |
| GOES-13 | 24 May 2006 | Oct 2019 | Geostationary Operational Environmental Satellite – 2nd generation | 35786 km |
| GOES-14 | 27 Jun 2009 | ≥2022 | Geostationary Operational Environmental Satellite – 2nd generation | 35786 km |
| GOES-15 | 04 Mar 2010 | ≥2022 | Geostationary Operational Environmental Satellite – 2nd generation | 35786 km |
| GOES-16 | 19 Nov 2016 | ≥2027 | Geostationary Operational Environmental Satellite – 3rd generation | 35786 km |
| Himawari-4 (GMS-4) | 06 Sep 1989 | 24 Feb 2000 | Himawari 1st generation (Geostationary Meteorological Satellite) | 35786 km |
| Himawari-5 (GMS-5) | 18 Mar 1995 | 22 May 2003 | Himawari 1st generation (Geostationary Meteorological Satellite) | 35786 km |
| Himawari-6 (MTSAT-1R) | 26 Feb 2005 | 04 Dec 2015 | Himawari 2nd generation (Multifunction Transport Satellite) | 35786 km |
| Himawari-7 (MTSAT-2) | 18 Feb 2006 | 10 May 2016 | Himawari 2nd generation (Multifunction Transport Satellite) | 35786 km |
| Himawari-8 | 07 Oct 2014 | ≥2030 | Himawari 3rd generation | 35786 km |
| INSAT-1D | 12 Jun 1990 | 14 May 2002 | Indian National Satellite – 1 | 35786 km |
| INSAT-2A | 10 Jul 1992 | 30 May 2002 | Indian National Satellite – 2 | 35786 km |
| INSAT-2B | 23 Jul 1993 | 01 Jul 2004 | Indian National Satellite – 2 | 35786 km |
| INSAT-2C | 07 Dec 1995 | 15 Apr 2002 | Indian National Satellite – 2 | 35786 km |
| INSAT-2E | 03 Apr 1999 | 15 Apr 2012 | Indian National Satellite – 2 | 35786 km |
| INSAT-3A | 10 Apr 2003 | Sep 2016 | Indian National Satellite – 3 | 35786 km |
| INSAT-3B | 22 Mar 2000 | 02 Nov 2010 | Indian National Satellite – 3 | 35786 km |
| INSAT-3C | 24 Jan 2002 | 2014 | Indian National Satellite – 3 | 35786 km |
| INSAT-3D | 25 Jul 2013 | ≥2022 | Indian National Satellite – 3 | 35786 km |
| INSAT-3DR | 08 Sep 2016 | ≥2026 | Indian National Satellite – 3 | 35786 km |
| Kalpana-1 | 12 Sep 2002 | Sep 2017 | Kalpana | 35786 km |
| MTG-I1 | Dec 2022 | ≥2030 | Meteosat Third Generation (MTG) – "I" imaging, "S" sounding | 35786 km |
| Meteosat-6 | 20 Nov 1993 | 27 Apr 2007 | Meteosat First Generation | 35786 km |
| Meteosat-7 (IODC) | 05 Dec 2006 | 01 Feb 2017 | Meteosat First Generation | 35786 km |
| Meteosat-8 | 28 Aug 2002 | 04 Jul 2016 | Meteosat Second Generation (MSG) | 35786 km |
| Meteosat-9 | 21 Dec 2005 | 01 Apr 2022 | Meteosat Second Generation (MSG) | 35786 km |
| Meteosat-10 | 05 Jul 2012 | ≥2030 | Meteosat Second Generation (MSG) | 35786 km |
| Meteosat-11 | 15 Jul 2015 | ≥2033 | Meteosat Second Generation (MSG) | 35786 km |
| Electro-L N3 | 24 Dec 2019 | ≥2029 | Electro | 35786 km |
| GEO-CAPE | | | Geostationary Coastal and Air Pollution Events | 35786 km |
| PATH | | | Precipitation and All-weather Temperature and Humidity | 35786 km |
Geo-synchronous Orbit Satellite (Year 2000-2022)
| Satellite Name | Launch Date | End of Life | Programme | Altitude |
| --- | --- | --- | --- | --- |
| SDO | 11 Feb 2010 | ≥2022 | Solar Dynamics Observatory | 35756 km |
Polar Orbit Satellite (Year 2000-2022)
| Satellite Name | Launch Date | End of Life | Programme | Altitude |
| --- | --- | --- | --- | --- |
| ACRIMSat | 20 Dec 1999 | 14 Dec 2013 | Active Cavity Radiometer Irradiance Monitor Satellite | 696 km |
| ADEOS-2 | 14 Dec 2002 | 25 Oct 2003 | Advanced Earth Observing Satellite | 812 km |
| Aeolus | 22 Aug 2018 | ≥2023 | Aeolus | 320 km |
| ALOS | 24 Jan 2006 | 22 Apr 2011 | Advanced Land Observing Satellite | 692 km |
| ALOS-2 | 24 May 2014 | ≥2022 | Advanced Land Observing Satellite | 640 km |
| ALOS-3 | ≥2022 | ≥2028 | Advanced Land Observing Satellite | 669 km |
| AlSat-1 | 28 Nov 2002 | 15 Aug 2010 | Algeria Satellite | 700 km |
| AlSat-2 | 12 Jul 2010 | 2019 | Algeria Satellite | 686 km |
| AlSat-2B | 26 Sep 2016 | ≥2022 | Algeria Satellite | 680 km |
| Amazônia-1 | 28 Feb 2021 | ≥2026 | Amazônia | 752 km |
| ASCENDS | | | Active Sensing of CO2 Emissions over Nights, Days, and Seasons | 450 km |
| BILSat | 27 Sep 2003 | 15 Aug 2006 | BILTEN Satellte | 686 km |
| BIRD | 22 Oct 2001 | 01 Jul 2007 | Bi-spectral Infra-Red Detection | 572 km |
| Beijing-1 | 27 Oct 2005 | 2010 | Beijing | 699 km |
| CALIPSO | 28 Apr 2006 | ≥2023 | Cloud-Aerosol Lidar and Infrared Pathfinder Satellite Observations | 689 km |
| CartoSat-1 (IRS-P5) | 05 May 2005 | 05 May 2019 | Satellite for Cartography | 618 km |
| CartoSat-2 | 10 Jan 2007 | 13 Aug 2019 | Satellite for Cartography | 635 km |
| CartoSat-2A | 28 Apr 2008 | ≥2022 | Satellite for Cartography | 635 km |
| CartoSat-2B | 12 Jul 2010 | ≥2022 | Satellite for Cartography | 640 km |
| CartoSat-3 | 27 Nov 2019 | ≥2024 | Satellite for Cartography | 450 km |
| CBERS-1 | 14 Oct 1999 | 12 Oct 2003 | China-Brazil Earth Resources Satellite | 778 km |
| CBERS-2 | 21 Oct 2003 | 15 Nov 2007 | China-Brazil Earth Resources Satellite | 778 km |
| CBERS-2B | 19 Sep 2007 | 16 May 2010 | China-Brazil Earth Resources Satellite | 778 km |
| CBERS-3 | 09 Dec 2013 | 09 Dec 2013 | China-Brazil Earth Resources Satellite | 778 km |
| CBERS-4 | 07 Dec 2014 | ≥2022 | China-Brazil Earth Resources Satellite | 778 km |
| CloudSat | 28 Apr 2006 | ≥2023 | CloudSat | 689 km |
| Coriolis | 06 Jan 2003 | Dec 2020 | Coriolis | 838 km |
| CryoSat | 08 Oct 2005 | 08 Oct 2005 | CryoSat | 717 km |
| CSG-1 | 18 Dec 2019 | ≥2026 | COSMO-SkyMed Second Generation | 619 km |
| CSG-2 | 31 Jan 2022 | ≥2029 | COSMO-SkyMed Second Generation | 619 km |
| CSK-1 | 08 Jun 2007 | ≥2022 | COSMO-SkyMed | 629.5 km |
| CSK-2 | 09 Dec 2007 | ≥2022 | COSMO-SkyMed | 629.5 km |
| CSK-3 | 25 Oct 2008 | ≥2022 | COSMO-SkyMed | 629.5 km |
| CSK-4 | 06 Nov 2010 | ≥2022 | COSMO-SkyMed | 629.5 km |
| Deimos-1 | 29 Jul 2009 | 2019 | Deimos | 660 km |
| DESDynI | | | Deformation, Ecosystem Structure, and Dynamics of Ice | 400 km |
| DMSP-F08 | 18 Jun 1987 | 01 Oct 2006 | Defense Meteorological Satellite Program – Block 5D-2 | 856 km |
| DMSP-F11 | 28 Nov 1991 | 07 Aug 2000 | Defense Meteorological Satellite Program – Block 5D-2 | 853 km |
| DMSP-F12 | 29 Aug 1994 | 13 Oct 2008 | Defense Meteorological Satellite Program – Block 5D-2 | 850 km |
| DMSP-F13 | 24 Mar 1995 | 03 Feb 2015 | Defense Meteorological Satellite Program – Block 5D-2 | 850 km |
| DMSP-F14 | 04 Apr 1997 | 2017 | Defense Meteorological Satellite Program – Block 5D-2 | 852 km |
| DMSP-F15 | 12 Dec 1999 | Dec 2020 | Defense Meteorological Satellite Program – Block 5D-3 | 850 km |
| DMSP-F16 | 18 Oct 2003 | 2019 | Defense Meteorological Satellite Program – Block 5D-3 | 848 km |
| DMSP-F17 | 04 Nov 2006 | ≥2022 | Defense Meteorological Satellite Program – Block 5D-3 | 848 km |
| DMSP-F18 | 18 Oct 2009 | ≥2022 | Defense Meteorological Satellite Program – Block 5D-3 | 850 km |
| DMSP-F19 | 03 Apr 2014 | 11 Feb 2016 | Defense Meteorological Satellite Program – Block 5D-3 | 850 km |
| DubaiSat-1 | 29 Jul 2009 | 09 May 2016 | DubaiSat | 686 km |
| EnMAP | 01 Apr 2022 | ≥2027 | Environmental Mapping and Analysis Programme | 653 km |
| Envisat | 01 Mar 2002 | 08 Apr 2012 | Environmental Satellite | 774 km |
| Aqua | 04 May 2002 | ≥2023 | Earth Observation System | 705 km |
Name of Indian Satellite/ Spacecrafts
| Satellite Name | Launch Date | Launch Vehicle | Orbit Type | Application |
| --- | --- | --- | --- | --- |
| INS-2TD | Feb 14, 2022 | PSLV-C52/EOS-04 Mission | | Experimental |
| EOS-04 | Feb 14, 2022 | PSLV-C52/EOS-04 Mission | | Earth Observation |
| EOS-03 | Aug 12, 2021 | GSLV-F10 / EOS-03 | GTO | Earth Observation |
| CMS-01 | Dec 17, 2020 | PSLV-C50/CMS-01 | GSO | Communication |
| EOS-01 | Nov 07, 2020 | PSLV-C49/EOS-01 | LEO | Disaster Management System, Earth Observation |
| GSAT-30 | Jan 17, 2020 | Ariane-5 VA-251 | GSO | Communication |
| RISAT-2BR1 | Dec 11, 2019 | PSLV-C48/RISAT-2BR1 | LEO | Disaster Management System, Earth Observation |
| Cartosat-3 | Nov 27, 2019 | PSLV-C47 / Cartosat-3 Mission | SSPO | Earth Observation |
| Chandrayaan2 | Jul 22, 2019 | GSLV-Mk III – M1 / Chandrayaan-2 Mission | Lunar | Planetary Observation |
| RISAT-2B | May 22, 2019 | PSLV-C46 Mission | LEO | Disaster Management System, Earth Observation |
| EMISAT | Apr 01, 2019 | PSLV-C45/EMISAT MISSION | SSPO | |
| GSAT-31 | Feb 06, 2019 | Ariane-5 VA-247 | GTO | Communication |
| Microsat-R | Jan 24, 2019 | PSLV-C44 | SSPO | |
| GSAT-7A | Dec 19, 2018 | GSLV-F11 / GSAT-7A Mission | | Communication |
| GSAT-11 Mission | Dec 05, 2018 | Ariane-5 VA-246 | GTO | Communication |
| HysIS | Nov 29, 2018 | PSLV-C43 / HysIS Mission | SSPO | Earth Observation |
| GSAT-29 | Nov 14, 2018 | GSLV Mk III-D2 / GSAT-29 Mission | GTO | Communication |
| IRNSS-1I | Apr 12, 2018 | PSLV-C41/IRNSS-1I | GSO | Navigation |
| GSAT-6A | Mar 29, 2018 | GSLV-F08/GSAT-6A Mission | GSO | Communication |
| Microsat | Jan 12, 2018 | PSLV-C40/Cartosat-2 Series Satellite Mission | SSPO | Experimental |
| Cartosat-2 Series Satellite | Jan 12, 2018 | PSLV-C40/Cartosat-2 Series Satellite Mission | SSPO | Earth Observation |
| INS-1C | Jan 12, 2018 | PSLV-C40/Cartosat-2 Series Satellite Mission | SSPO | Experimental |
| IRNSS-1H | Aug 31, 2017 | PSLV-C39/IRNSS-1H Mission | | Navigation |
| GSAT-17 | Jun 29, 2017 | Ariane-5 VA-238 | GTO | Communication |
| Cartosat-2 Series Satellite | Jun 23, 2017 | PSLV-C38 / Cartosat-2 Series Satellite | SSPO | Earth Observation |
| GSAT-19 | Jun 05, 2017 | GSLV Mk III-D1/GSAT-19 Mission | GSO | Communication |
| GSAT-9 | May 05, 2017 | GSLV-F09 / GSAT-9 | GSO | Communication |
| INS-1B | Feb 15, 2017 | PSLV-C37 / Cartosat -2 Series Satellite | SSPO | Experimental |
| Cartosat -2 Series Satellite | Feb 15, 2017 | PSLV-C37 / Cartosat -2 Series Satellite | SSPO | Earth Observation |
| INS-1A | Feb 15, 2017 | PSLV-C37 / Cartosat -2 Series Satellite | SSPO | Experimental |
| RESOURCESAT-2A | Dec 07, 2016 | PSLV-C36 / RESOURCESAT-2A | SSPO | Earth Observation |
| GSAT-18 | Oct 06, 2016 | Ariane-5 VA-231 | GSO | Communication |
| SCATSAT-1 | Sep 26, 2016 | PSLV-C35 / SCATSAT-1 | SSPO | Climate & Environment |
| INSAT-3DR | Sep 08, 2016 | GSLV-F05 / INSAT-3DR | GSO | Climate & Environment, Disaster Management System |
| CARTOSAT-2 Series Satellite | Jun 22, 2016 | PSLV-C34 / CARTOSAT-2 Series Satellite | SSPO | Earth Observation |
| IRNSS-1G | Apr 28, 2016 | PSLV-C33/IRNSS-1G | GEO | Navigation |
| IRNSS-1F | Mar 10, 2016 | PSLV-C32/IRNSS-1F | GEO | Navigation |
| IRNSS-1E | Jan 20, 2016 | PSLV-C31/IRNSS-1E | GSO | Navigation |
| GSAT-15 | Nov 11, 2015 | Ariane-5 VA-227 | GEO | Communication, Navigation |
| Astrosat | Sep 28, 2015 | PSLV-C30/AstroSat MISSION | | Space Science |
| GSAT-6 | Aug 27, 2015 | GSLV-D6 | GTO | Communication |
| IRNSS-1D | Mar 28, 2015 | PSLV-C27/IRNSS-1D | GSO | Navigation |
| CARE | Dec 18, 2014 | LVM-3/CARE Mission | | Experimental |
| GSAT-16 | Dec 07, 2014 | Ariane-5 VA-221 | GSO | Communication |
| IRNSS-1C | Oct 16, 2014 | PSLV-C26/IRNSS-1C | GEO | Navigation |
| IRNSS-1B | Apr 04, 2014 | PSLV-C24/IRNSS-1B | GSO | Navigation |
| GSAT-14 | Jan 05, 2014 | GSLV-D5/GSAT-14 | GSO | Communication |
| Mars Orbiter Mission Spacecraft | Nov 05, 2013 | PSLV-C25 | Martian | Planetary Observation |
| GSAT-7 | Aug 30, 2013 | Ariane-5 VA-215 | GSO | Communication |
| INSAT-3D | Jul 26, 2013 | Ariane-5 VA-214 | GSO | Climate & Environment, Disaster Management System |
| IRNSS-1A | Jul 01, 2013 | PSLV-C22/IRNSS-1A | GSO | Navigation |
| SARAL | Feb 25, 2013 | PSLV-C20/SARAL | SSPO | Climate & Environment, Earth Observation |
| GSAT-10 | Sep 29, 2012 | Ariane-5 VA-209 | GEO | Communication, Navigation |
| RISAT-1 | Apr 26, 2012 | PSLV-C19/RISAT-1 | SSPO | Earth Observation |
| Megha-Tropiques | Oct 12, 2011 | PSLV-C18/Megha-Tropiques | SSPO | Climate & Environment, Earth Observation |
| GSAT-12 | Jul 15, 2011 | PSLV-C17/GSAT-12 | GSO | Communication |
| GSAT-8 | May 21, 2011 | Ariane-5 VA-202 | GEO | Communication, Navigation |
| RESOURCESAT-2 | Apr 20, 2011 | PSLV-C16/RESOURCESAT-2 | SSPO | Earth Observation |
| YOUTHSAT | Apr 20, 2011 | PSLV-C16/RESOURCESAT-2 | SSPO | Student Satellite |
| GSAT-5P | Dec 25, 2010 | GSLV-F06 / GSAT-5P | GSO | Communication |
| CARTOSAT-2B | Jul 12, 2010 | PSLV-C15/CARTOSAT-2B | SSPO | Earth Observation |
| GSAT-4 | Apr 15, 2010 | GSLV-D3 / GSAT-4 | GSO | Communication |
| Oceansat-2 | Sep 23, 2009 | PSLV-C14 / OCEANSAT-2 | SSPO | Climate & Environment, Earth Observation |
| RISAT-2 | Apr 20, 2009 | PSLV-C12 / RISAT-2 | SSPO | Earth Observation |
| Chandrayaan-1 | Oct 22, 2008 | PSLV-C11 | Lunar | Planetary Observation |
| IMS-1 | Apr 28, 2008 | PSLV-C9 / CARTOSAT – 2A | SSPO | Earth Observation |
| CARTOSAT – 2A | Apr 28, 2008 | PSLV-C9 / CARTOSAT – 2A | SSPO | Earth Observation |
| INSAT-4CR | Sep 02, 2007 | GSLV-F04 / INSAT-4CR | GSO | Communication |
| INSAT-4B | Mar 12, 2007 | Ariane5 | GSO | Communication |
| CARTOSAT-2 | Jan 10, 2007 | PSLV-C7 / CARTOSAT-2 / SRE-1 | SSPO | Earth Observation |
| SRE-1 | Jan 10, 2007 | PSLV-C7 / CARTOSAT-2 / SRE-1 | SSPO | Experimental |
| INSAT-4C | Jul 10, 2006 | GSLV-F02 / INSAT-4C | GSO | Communication |
| INSAT-4A | Dec 22, 2005 | Ariane5-V169 | GSO | Communication |
| HAMSAT | May 05, 2005 | PSLV-C6/CARTOSAT-1/HAMSAT | SSPO | Communication |
| CARTOSAT-1 | May 05, 2005 | PSLV-C6/CARTOSAT-1/HAMSAT | SSPO | Earth Observation |
| EDUSAT | Sep 20, 2004 | GSLV-F01 / EDUSAT(GSAT-3) | GSO | Communication |
| IRS-P6 / RESOURCESAT-1 | Oct 17, 2003 | PSLV-C5 /RESOURCESAT-1 | SSPO | Earth Observation |
| INSAT-3E | Sep 28, 2003 | Ariane5-V162 | GSO | Communication |
| GSAT-2 | May 08, 2003 | GSLV-D2 / GSAT-2 | GSO | Communication |
| INSAT-3A | Apr 10, 2003 | Ariane5-V160 | GSO | Climate & Environment, Communication |
| KALPANA-1 | Sep 12, 2002 | PSLV-C4 /KALPANA-1 | GSO | Climate & Environment, Communication |
| INSAT-3C | Jan 24, 2002 | Ariane5-V147 | GSO | Climate & Environment, Communication |
| The Technology Experiment Satellite (TES) | Oct 22, 2001 | PSLV-C3 / TES | SSPO | Earth Observation |
| GSAT-1 | Apr 18, 2001 | GSLV-D1 / GSAT-1 | GSO | Communication |
| INSAT-3B | Mar 22, 2000 | Ariane-5G | GSO | Communication |
| Oceansat(IRS-P4) | May 26, 1999 | PSLV-C2/IRS-P4 | SSPO | Earth Observation |
| INSAT-2E | Apr 03, 1999 | Ariane-42P H10-3 | GSO | Communication |
| IRS-1D | Sep 29, 1997 | PSLV-C1 / IRS-1D | SSPO | Earth Observation |
| INSAT-2D | Jun 04, 1997 | Ariane-44L H10-3 | GSO | Communication |
| IRS-P3 | Mar 21, 1996 | PSLV-D3 / IRS-P3 | SSPO | Earth Observation |
| IRS-1C | Dec 28, 1995 | Molniya | SSPO | Earth Observation |
| INSAT-2C | Dec 07, 1995 | Ariane-44L H10-3 | GSO | Communication |
| IRS-P2 | Oct 15, 1994 | PSLV-D2 | SSPO | Earth Observation |
| SROSS-C2 | May 04, 1994 | ASLV-D4 | | Experimental |
| IRS-1E | Sep 20, 1993 | PSLV-D1 | LEO | Earth Observation |
| INSAT-2B | Jul 23, 1993 | Ariane-44L H10+ | GSO | Communication |
| INSAT-2A | Jul 10, 1992 | Ariane-44L H10 | GSO | Communication |
| SROSS-C | May 20, 1992 | ASLV-D3 | | Experimental |
| IRS-1B | Aug 29, 1991 | Vostok | SSPO | Earth Observation |
| INSAT-1D | Jun 12, 1990 | Delta 4925 | GSO | Communication |
| INSAT-1C | Jul 22, 1988 | Ariane-3 | GSO | Communication |
| SROSS-2 | Jul 13, 1988 | ASLV-D2 | | Earth Observation, Experimental |
| IRS-1A | Mar 17, 1988 | Vostok | SSPO | Earth Observation |
| SROSS-1 | Mar 24, 1987 | ASLV-D1 | | Experimental |
| INSAT-1B | Aug 30, 1983 | Shuttle [PAM-D] | GSO | Communication |
| Rohini Satellite RS-D2 | Apr 17, 1983 | SLV-3 | LEO | Earth Observation |
| INSAT-1A | Apr 10, 1982 | Delta | GSO | Communication |
| Bhaskara-II | Nov 20, 1981 | C-1 Intercosmos | LEO | Earth Observation, Experimental |
| APPLE | Jun 19, 1981 | Ariane -1(V-3) | GSO | Communication, Experimental |
| Rohini Satellite RS-D1 | May 31, 1981 | SLV-3D1 | LEO | Earth Observation |
| Rohini Satellite RS-1 | Jul 18, 1980 | SLV-3E2 | | |
| Rohini Technology Payload (RTP) | Aug 10, 1979 | SLV-3E1 | | |
| Bhaskara-I | Jun 07, 1979 | C-1Intercosmos | LEO | Earth Observation, Experimental |
| Aryabhata | Apr 19, 1975 | C-1 Intercosmos | | Experimental |