Geopackage in QGIS
What is QGIS Geopackage
The GeoPackage is a database, supports direct use in QGIS. It is the SQLite container database;
Vector features
Attributes
Extensions
Tile matrix sets of imagery and raster maps at various scales
The GeoPackage open format is a container that allows you to store GIS data in a single file. A single GeoPackage file can contain both vector and raster data in different coordinate reference systems, as well as tables without spatial information.
How to Create a GeoPackage in QGIS
Before you start this lesson, QGIS must be installed on your computer. Also, you should have downloaded the sample data to use.
In this tutorial you will need to GeoPackage data layer, if you have not available GeoPackage data, first create a GeoPackage data.
1. Open QGIS Desktop.
2. Add the spatial data layers (ProposedRoads) to the Layers Panel.
3. Right-click ProposedRoads layer in the Layers Panel, and click Export, then choose Save Features As …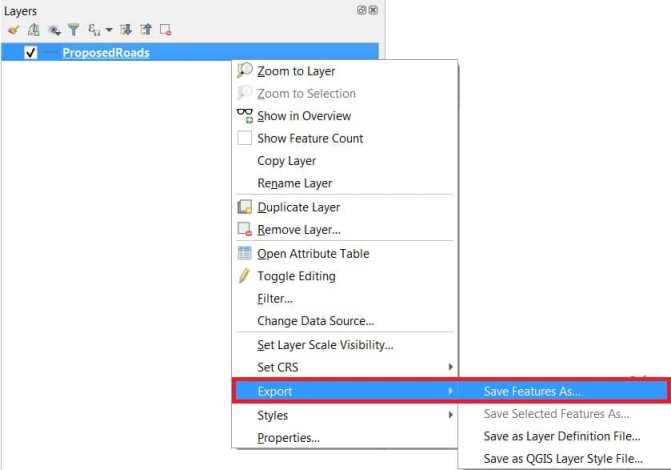 4. The Save Features As window appear, fill the required options;
Format: GeoPackage
File name : ProposedRoads
Layer name : ProposedRoads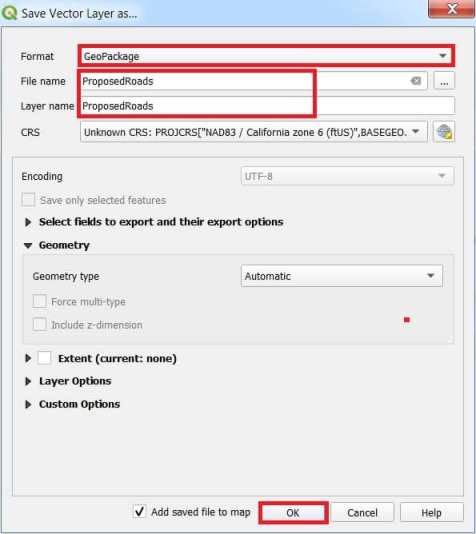 5. Finally click OK button.
You will first need to connection it, following the below:
1. Click the data source manager button.
2. In the data source manager panel, click GeoPackage tab.
3. Click the New button, and browse your data file.
4. Select the data file and press Open. The file path is now added to the Geopackage connections list.
Now you are ready to add any layer from this GeoPackage.
5. Click the Connect button, and see list of all the layers contained in the GeoPackage file.
6. Select any of your data layer (ProposedRoads) and click on the Add button.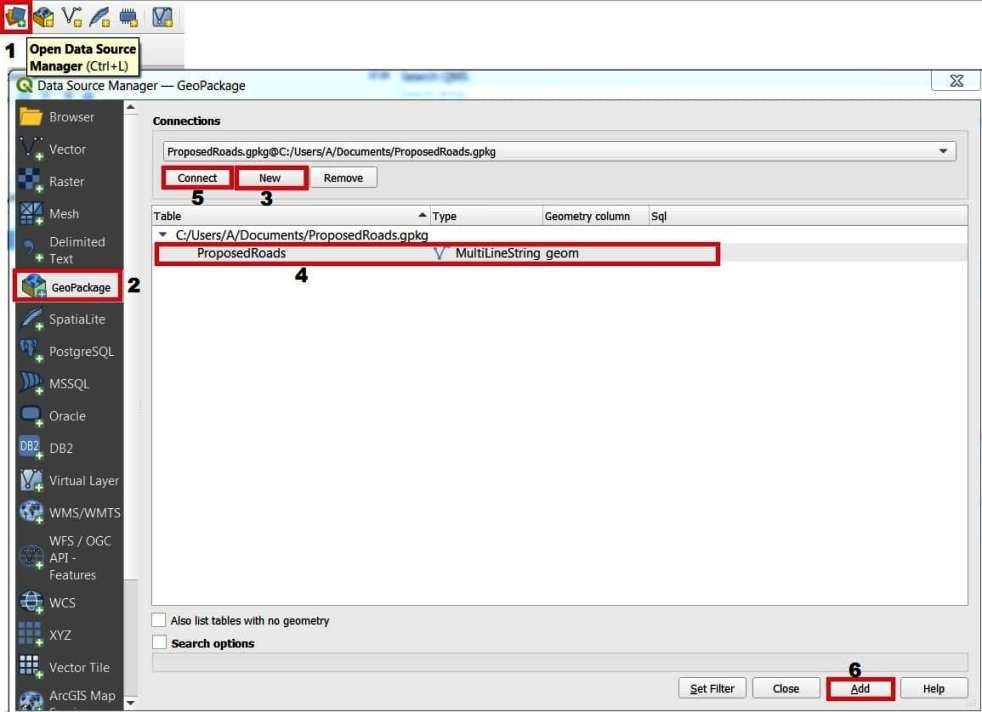 You have loaded the first layer (ProposedRoads) from a GeoPackage.