Satellite Imagery
Satellite Imagery/images are Data collected by Satellites to Earth's Surface and Ocean. Satellite imagery is used for Weather analysis and forecasting, and also Satellite image analysis Land cover/ use.
Data Sources of Satellite Image
Download Free Satellite Imagery Data Sources
Satellite Image Google
Worldwide satellite imagery, 3D buildings, and terrain on the Earth. The world's most detailed Globe Google Earth.
Satellite Image and Data Information
Example. 1: Landsat Data
Example. 2: Resourcesat- LISS-III Data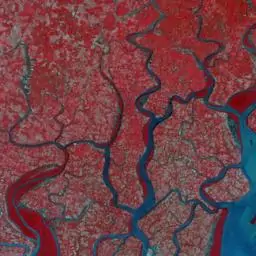 I. Data Identification Information
1. Name of the Dataset: L3_SAT_10B_v1_88.25E21.75N_F45Q05 _17Apr19
2. Keywords Resourcesat-2, LISS-III, 24m, India, ISRO, NRSC,Ortho
3. Access Constraints Registered Users
4. Use Constraints As per NRSC Data Dissemination Policy
5. Purpose of creating data Ortho Corrected Imagery from IRS Resourcesat-2
6. Edition First
7. Status Completed: Ortho corrected data has been generated.
II. Geographic Location
1. Spheroid / Datum GCS, WGS-1984
III. Coverage
1. Upper left X = 88.25E, Y = 22N
2. Upper right X = 88.5E, Y = 22N
3. Lower right X = 88.5E, Y = 21.75N
4. Lower left X = 88.25E, Y = 21.75N (With collar of 40 pixels)
IV. Citation
1. Data Prepared by NRSC
2. Original SourceResourcesat-2 LISS-III(24m) 3. Lineage
Tile Name: F45Q05
Resolution: 0.000225 Deg
File Format: Geotiff
V. Metadata Stamp
1. Metadata Date Stamp 2021-07-15
VI. Dataset Topic Category
1. Data Identification topic category Ortho rectified data
VII. Language
1. Language ISO 0639-2Bsh English
VIII. Abstract describing the data
1. Data Identification abstract This data is received from Linear Imaging and Self Scanning Sensor (LISS) which operates in three spectral bands in VNIR and one band in SWIR with 24 metre spatial resolution and a swath of 141 km.
IX. For Image Data
1. Name of the Satellite Resourcesat-2
2. Sensor LISS-III
3. Path 108
4. Row 057
5. Image Acquired From Resourcesat-2
6. Date of Pass 17Apr19
7. File Format Geotiff
8. Spatial Resolution 0.000225 Deg
9. Spatial Resolution Unit Deg
10. Number of Bands 4
Types of Satellite Imagery
VISIBLE: Visible satellite pictures can only be viewed during the day, clouds reflect the light from the sun.
INFRARED: Infrared satellite image show clouds in both day and night, it's using sunlight to reflect off of clouds.
WATER VAPOR: Water vapor satellite pictures indicate how much moisture is present in the upper atmosphere.
Real Time Satellite Images
USGS (United State Geological Survey) Providing real-time or near real-time data and information on current conditions and earth observations. Download different types of Data- Landset, Elevation, Aerial, Radar, Hyperspectral Data.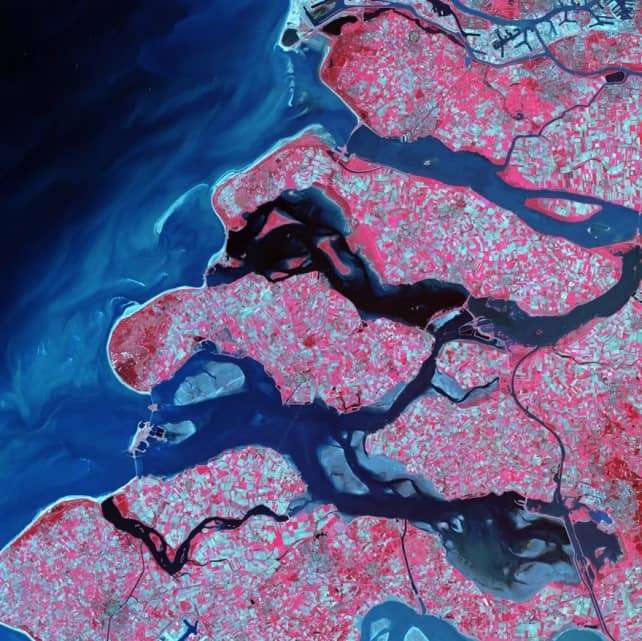 Real-time Data observatory
Live Satellite Images
LIVE satellite images is very useful for distinguishing clouds, land, and sea/ocean. Also track tropical storms, hurricanes, severe weather, and wildfires. View live Earth:
List of Satellites 1975-2022
| Satellite Name | Launch Date | Application |
| --- | --- | --- |
| INS-2TD | Feb 14, 2022 | Experimental |
| EOS-04 | Feb 14, 2022 | Earth Observation |
| EOS-03 | Aug 12, 2021 | Earth Observation |
| CMS-01 | Dec 17, 2020 | Communication |
| EOS-01 | Nov 07, 2020 | Disaster Management System, Earth Observation |
| GSAT-30 | Jan 17, 2020 | Communication |
| RISAT-2BR1 | Dec 11, 2019 | Disaster Management System, Earth Observation |
| Cartosat-3 | Nov 27, 2019 | Earth Observation |
| Chandrayaan2 | Jul 22, 2019 | Planetary Observation |
| RISAT-2B | May 22, 2019 | Disaster Management System, Earth Observation |
| EMISAT | Apr 01, 2019 | |
| GSAT-31 | Feb 06, 2019 | Communication |
| Microsat-R | Jan 24, 2019 | |
| GSAT-7A | Dec 19, 2018 | Communication |
| GSAT-11 Mission | Dec 05, 2018 | Communication |
| HysIS | Nov 29, 2018 | Earth Observation |
| GSAT-29 | Nov 14, 2018 | Communication |
| IRNSS-1I | Apr 12, 2018 | Navigation |
| GSAT-6A | Mar 29, 2018 | Communication |
| INS-1C | Jan 12, 2018 | Experimental |
| Microsat | Jan 12, 2018 | Experimental |
| Cartosat-2 Series Satellite | Jan 12, 2018 | Earth Observation |
| IRNSS-1H | Aug 31, 2017 | Navigation |
| GSAT-17 | Jun 29, 2017 | Communication |
| Cartosat-2 Series Satellite | Jun 23, 2017 | Earth Observation |
| GSAT-19 | Jun 05, 2017 | Communication |
| GSAT-9 | May 05, 2017 | Communication |
| INS-1B | Feb 15, 2017 | Experimental |
| Cartosat -2 Series Satellite | Feb 15, 2017 | Earth Observation |
| INS-1A | Feb 15, 2017 | Experimental |
| RESOURCESAT-2A | Dec 07, 2016 | Earth Observation |
| GSAT-18 | Oct 06, 2016 | Communication |
| SCATSAT-1 | Sep 26, 2016 | Climate & Environment |
| INSAT-3DR | Sep 08, 2016 | Climate & Environment, Disaster Management System |
| CARTOSAT-2 Series Satellite | Jun 22, 2016 | Earth Observation |
| IRNSS-1G | Apr 28, 2016 | Navigation |
| IRNSS-1F | Mar 10, 2016 | Navigation |
| IRNSS-1E | Jan 20, 2016 | Navigation |
| GSAT-15 | Nov 11, 2015 | Communication, Navigation |
| Astrosat | Sep 28, 2015 | Space Science |
| GSAT-6 | Aug 27, 2015 | Communication |
| IRNSS-1D | Mar 28, 2015 | Navigation |
| Crew module Atmospheric Re-entry Experiment (CARE) | Dec 18, 2014 | Experimental |
| GSAT-16 | Dec 07, 2014 | Communication |
| IRNSS-1C | Oct 16, 2014 | Navigation |
| IRNSS-1B | Apr 04, 2014 | Navigation |
| GSAT-14 | Jan 05, 2014 | Communication |
| Mars Orbiter Mission Spacecraft | Nov 05, 2013 | Planetary Observation |
| GSAT-7 | Aug 30, 2013 | Communication |
| INSAT-3D | Jul 26, 2013 | Climate & Environment, Disaster Management System |
| IRNSS-1A | Jul 01, 2013 | Navigation |
| SARAL | Feb 25, 2013 | Climate & Environment, Earth Observation |
| GSAT-10 | Sep 29, 2012 | Communication, Navigation |
| RISAT-1 | Apr 26, 2012 | Earth Observation |
| Megha-Tropiques | Oct 12, 2011 | Climate & Environment, Earth Observation |
| GSAT-12 | Jul 15, 2011 | Communication |
| GSAT-8 | May 21, 2011 | Communication, Navigation |
| RESOURCESAT-2 | Apr 20, 2011 | Earth Observation |
| YOUTHSAT | Apr 20, 2011 | Student Satellite |
| GSAT-5P | Dec 25, 2010 | Communication |
| CARTOSAT-2B | Jul 12, 2010 | Earth Observation |
| GSAT-4 | Apr 15, 2010 | Communication |
| Oceansat-2 | Sep 23, 2009 | Climate & Environment, Earth Observation |
| RISAT-2 | Apr 20, 2009 | Earth Observation |
| Chandrayaan-1 | Oct 22, 2008 | Planetary Observation |
| CARTOSAT – 2A | Apr 28, 2008 | Earth Observation |
| IMS-1 | Apr 28, 2008 | Earth Observation |
| INSAT-4CR | Sep 02, 2007 | Communication |
| INSAT-4B | Mar 12, 2007 | Communication |
| CARTOSAT-2 | Jan 10, 2007 | Earth Observation |
| SRE-1 | Jan 10, 2007 | Experimental |
| INSAT-4C | Jul 10, 2006 | Communication |
| INSAT-4A | Dec 22, 2005 | Communication |
| HAMSAT | May 05, 2005 | Communication |
| CARTOSAT-1 | May 05, 2005 | Earth Observation |
| EDUSAT | Sep 20, 2004 | Communication |
| IRS-P6 / RESOURCESAT-1 | Oct 17, 2003 | Earth Observation |
| INSAT-3E | Sep 28, 2003 | Communication |
| GSAT-2 | May 08, 2003 | Communication |
| INSAT-3A | Apr 10, 2003 | Climate & Environment, Communication |
| KALPANA-1 | Sep 12, 2002 | Climate & Environment, Communication |
| INSAT-3C | Jan 24, 2002 | Climate & Environment, Communication |
| The Technology Experiment Satellite (TES) | Oct 22, 2001 | Earth Observation |
| GSAT-1 | Apr 18, 2001 | Communication |
| INSAT-3B | Mar 22, 2000 | Communication |
| Oceansat(IRS-P4) | May 26, 1999 | Earth Observation |
| INSAT-2E | Apr 03, 1999 | Communication |
| IRS-1D | Sep 29, 1997 | Earth Observation |
| INSAT-2D | Jun 04, 1997 | Communication |
| IRS-P3 | Mar 21, 1996 | Earth Observation |
| IRS-1C | Dec 28, 1995 | Earth Observation |
| INSAT-2C | Dec 07, 1995 | Communication |
| IRS-P2 | Oct 15, 1994 | Earth Observation |
| SROSS-C2 | May 04, 1994 | Experimental |
| IRS-1E | Sep 20, 1993 | Earth Observation |
| INSAT-2B | Jul 23, 1993 | Communication |
| INSAT-2A | Jul 10, 1992 | Communication |
| SROSS-C | May 20, 1992 | Experimental |
| IRS-1B | Aug 29, 1991 | Earth Observation |
| INSAT-1D | Jun 12, 1990 | Communication |
| INSAT-1C | Jul 22, 1988 | Communication |
| SROSS-2 | Jul 13, 1988 | Earth Observation, Experimental |
| IRS-1A | Mar 17, 1988 | Earth Observation |
| SROSS-1 | Mar 24, 1987 | Experimental |
| INSAT-1B | Aug 30, 1983 | Communication |
| Rohini Satellite RS-D2 | Apr 17, 1983 | Earth Observation |
| INSAT-1A | Apr 10, 1982 | Communication |
| Bhaskara-II | Nov 20, 1981 | Earth Observation, Experimental |
| APPLE | Jun 19, 1981 | Communication, Experimental |
| Rohini Satellite RS-D1 | May 31, 1981 | Earth Observation |
| Rohini Satellite RS-1 | Jul 18, 1980 | – |
| Rohini Technology Payload (RTP) | Aug 10, 1979 | – |
| Bhaskara-I | Jun 07, 1979 | Earth Observation, Experimental |
| Aryabhata | Apr 19, 1975 | Experimental |