ArcGIS Experience Builder
What is ArcGIS Experience Builder
ArcGIS Experience Builder empowers you to easily build the exact web apps you envisioned with low-code or no-code.
It's enables you to create immersive map centric and non-map centric applications that can run on the web, integrate with other ArcGIS Apps, and work with both 2D and 3D data.
ArcGIS Experience Builder is built into ArcGIS Online and ArcGIS Enterprise, so it leverages all of your existing data. Choose a software as a service or on-premises deployment to fit your needs. It is built on an extensible framework, so developers in your organization can build their own widgets and templates.
What Can Users Do with Experience Builder?
Easily build and customize web apps without code
Integrate GIS data
Engage end users in real time
Publish web apps
Benefits of ArcGIS Experience Builder
Modern Interface
Connected to ArcGIS
Integrated 2D and 3D Data
Mobile Optimization
Extensible
How it works?
Build your app based on a designer-made template.
Add both 2D and 3D data for an integrated view.
Choose widgets to include in your app, such as maps, images, text, and lists.
Organize widgets on a single page or across multiple pages.
Set colors that make your data pop and add your own branding.
When your app is done, publish and share it with the audience of your choice.
ArcGIS Experience Builder Download & Install
ArcGIS Experience Builder supports ArcGIS Online and ArcGIS Enterprise 10.6 and latest version.
There are two services for extending Experience Builder;
To install the developer edition of Experience Builder, complete the following steps for the server install and client install.
If you need to install Experience Builder without an internet connection, complete the offline install steps.
Now release ArcGIS Experience Builder latest v1.9 – July 20, 2022.
Once you have completed the download, unzip it on your local drive.
Sign to ArcGIS for Developers.
Click the OAuth 2.8 tab
Click + New Application and enter your application's details to register your new app.
Scroll down to the Redirect URLs tile.
Add the URL https://localhost:3001/.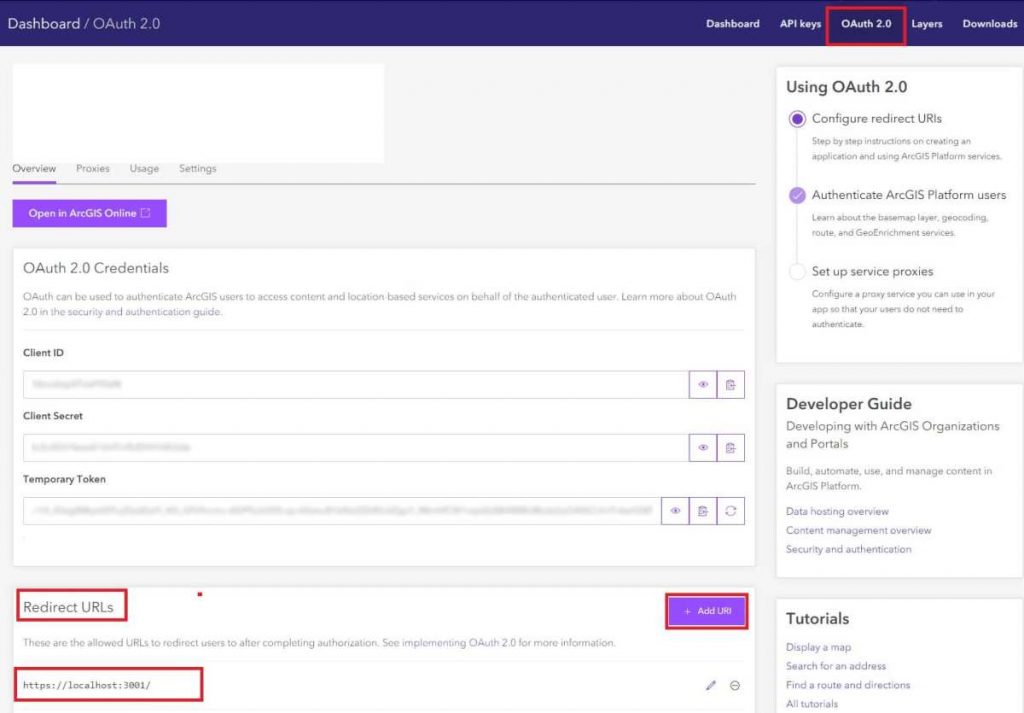 ArcGIS Experience Builder Tutorial
The ArcGIS Experience Builder tutorial guide you through building custom widgets.
In this tutorial learn about, how United States housing is divided on the local level, you'll create an interactive, colorful web app allowing users to explore housing in their area. You'll use ArcGIS Experience Builder, which allows you to build custom web layouts without writing any code.