Universal Transverse Mercator (UTM)
The Universal Transverse Mercator (UTM) is an international plane coordinate system developed by the US Army that extends around the world from 84°N to 80°S. The world is divided into 60 zones, each covering six degrees longitude. Each zone extends 3 degrees eastward and 3 degrees westward from its central meridian. Zones are numbered consecutively west to east from the 180° meridian.
The Transverse Mercator projection is then applied to each UTM zone. Transverse Mercator is a transverse form of the Mercator cylindrical projection. The projection cylinder is rotated 90° from the polar axis and can then be placed to intersect at a chosen central meridian. The UTM system specifies the central meridian of each zone. With a separate projection for each UTM zone, a high degree of accuracy is possible. If the map to be projected extends beyond the border of the UTM zone, the entire map may be projected for any UTM zone specified by you.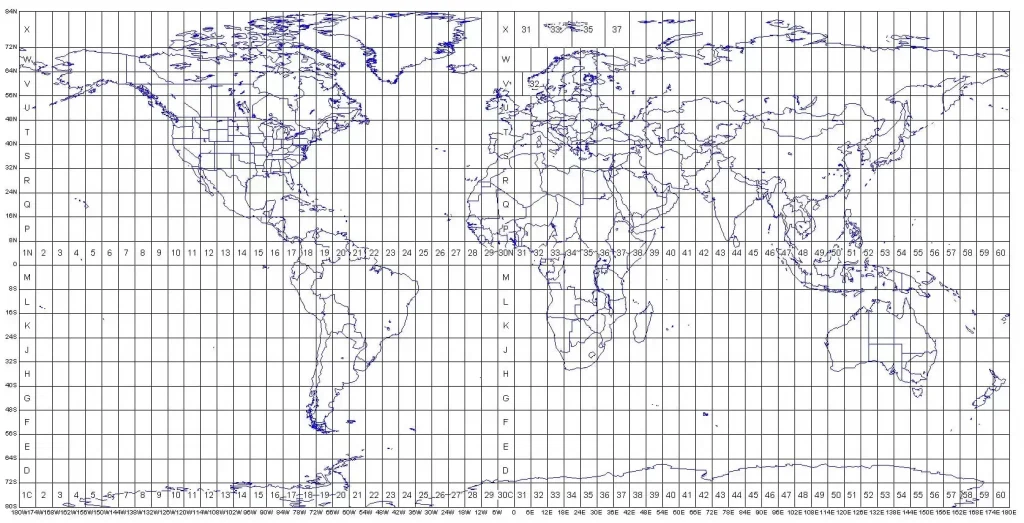 UTM Zones and Parameters
Zone
Central
Meridian
Range
1
177W
180W-174W
2
171W
174W-168W
3
165W
168W-162W
4
159W
162W-156W
5
153W
156W-150W
6
147W
150W-144W
7
141W
144W-138W
8
135W
138W-132W
9
129W
132W-126W
10
123W
126W-120W
11
117W
120W-114W
12
111W
114W-108W
13
105W
108W-102W
14
99W
102W-96W
15
93W
96W-90W
16
87W
90W-84W
17
81W
84W-78W
18
75W
78W-72W
19
69W
72W-66W
20
63W
66W-60W
21
57W
60W-54W
22
51W
54W-48W
23
45W
48W-42W
24
39W
42W-36W
25
33W
36W-30W
26
27W
30W-24W
27
21W
24W-18W
28
15W
18W-12W
29
9W
12W-6W
30
3W
6W-0
31
3E
0-6E
32
9E
6E-12E
33
15E
12E-18E
34
21E
18E-24E
35
27E
24E-30E
36
33E
30E-36E
37
39E
36E-42E
38
45E
42E-48E
39
51E
48E-54E
40
57E
54E-60E
41
63E
60E-66E
42
69E
66E-72E
43
75E
72E-78E
44
81E
78E-84E
45
87E
84E-90E
46
93E
90E-96E
47
99E
96E-102E
48
105E
102E-108E
49
111E
108E-114E
50
117E
114E-120E
51
123E
120E-126E
52
129E
126E-132E
53
135E
132E-138E
54
141E
138E-144E
55
147E
144E-150E
56
153E
150E-156E
57
159E
156E-162E
58
165E
162E-168E
59
171E
168E-174E
60
177E
174E-180E