Environment of Remote Sensing
Remote Sensing is a play to major role in Environment. It is used to help to protect the resources monitored, mitigate impacts and sustainable use.
Environmental monitoring by remote sensing is based on processing data and images acquired by sensors on satellites and other types of platforms.
Remote Sensing application in Environment
Environmental assessment
Forestry: biodiversity, forest, deforestation
Geology
Hydrology
Climatology
Habitat analysis
Mineral province
Sea ice
Oceans & Coastal Monitoring
Atmosphere monitoring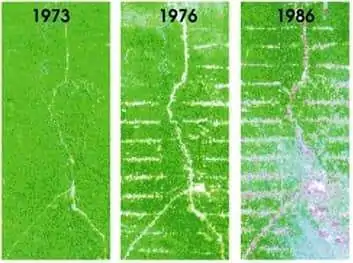 Environmental assessment
Remote sensing application in forestry includes:
Environmental impact analysis
Remediation
Ecosystem assessment
Risk management
Vulnerability assessment
Post-crisis environmental assessment
Forestry
Remote sensing application in forestry includes:
Forest cover
Forest types
Vegetation density
Deforestation
Forest fires
Biomass estimation
Geology
Remote sensing application in Geology includes:
environmental geology
bedrock mapping
structural mapping
lithological mapping
mineral exploration
hydrocarbon exploration
geobotany
sedimentation mapping and monitoring
geo-hazard mapping
Hydrology
Remote sensing application in Hydrology includes:
Wetlands mapping and monitoring
Soil moisture estimation
River and lake ice monitoring
Flood mapping and monitoring
Glacier dynamics monitoring
Measuring snow thickness
Determining snow-water equivalent
River /delta change detection
Drainage basin mapping
Watershed modeling
Climatology
Remote sensing application in forestry includes:
Climate Change analysis
Global and climate change studies
Weather prediction
Measuring the rise of sea levels
Remote sensing application in forestry includes:
Habitat analysis
Remote sensing application in forestry includes:
Endangered Species Assessments
Wetlands Analysis
Hydrologic Analysis
Watershed and other natural Resource Management Plans
Vegetation Mapping
Anadromous Fisheries Habitat Investigation
Forest Management Planning
Timber Volume Mapping
Wildlife & Fisheries Habitat Analysis and Reporting
Mineral province
Remote sensing application in forestry includes:
Mineral statistics and commodity information
Hydrothermal mineral deposit
Porphyry copper deposit
Lithosphere
Sea ice
Remote sensing application in Sea ice includes:
Sea ice concentration
Ice type /age /motion
Iceberg detection and tracking
Ice topography
Historical ice and iceberg conditions
Ice condition
Oceans & Coastal Monitoring
Remote sensing application in forestry includes:
Ocean pattern identification
Ocean salinity analysis
Fish stock and marine mammal assessment
Water temperature monitoring,and water quality
Tidal and storm effects
Coastal vegetation mapping
Coast level detection
Atmosphere monitoring
Remote sensing application in forestry includes:
Global warming monitering
Climate condition
Air quality measurement
Monitoring of the ozone layer
Atmospheric assessment