GIS Parcel Viewer Mapping
The GIS percel viewer allows for users without GIS Software on their computer to view, create and print maps in GIS formats.
Parcel mapping provides real-time data for assessing, and creating maps.
Many countries provide Geographic Parcel Map.
In this tutorial we well discuss about Livingston Country parcel viewer map, Greene County parcel map, and ArcGIS Parcel Viewer.
Interactive Parcel Viewer Map in Livingston Country
Open the Livingston County Parcel Viewer web portal.
Quick Button
This quick buttons helps you to quick response in you map.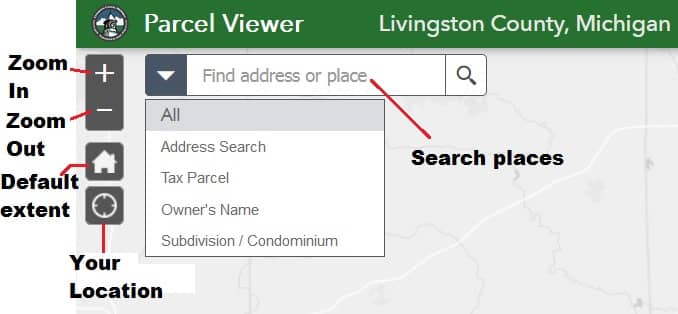 Looking Up Parcel Information
To find information about a parcel, simply click on the parcel and a open pop-up with information about the parcel will display.
You can also search by the parcel number and the pop-up will display when zoomed into the parcel.
Toolbar
Five important Toolbars available in the Livingston Country Parcel Viewer GIS Map:
Legend
Layer List
Print
Measurement
Draw
Legend
Legend Layers will change depending on Zoom Level and Layers present in the Map.
Layer List
Click drop-down arrow to visible sub-layer group.
Check/Uncheck Layers box to turn layers on and off.
Print
Enter your Map Title, it's default- Livingston County GIS Map.
Layout Options include Letter and Tabloid sizes with Landscape or Portrait Orientations available.
Choose the file formats as you went to print the map.
Click Advanced button for more customization options.
Measurement
Click and draw a polygon on the map to measure by AREA.
Clickand draw a line on the map to measure by LENGTH.
Click, and click the map to find the coordinates of a point.
Click the drop-down to change the measurement unit.
Draw
Use Select Draw Mode and additional options will become available depending on the draw mode selected.
Additional options include, color, transparency, outline color, outline width, text size, and text color. Length and Area Measurements can be added to Line and Polygon drawings.
Interactive Parcel Viewer Map in Greene County Ohio
Open the Greene County Ohio Parcel Viewer web portal.
Use the Parcel Report tool to creates a report based on selected percel features.
Parcel Identifier
In Greene County, Ohio the Parcel Identifier Widget allows you to search for features By Shape or with the options in the dropdown menu in the Parcel Search Tab.
Results are displayed in the Results tab.
ArcGIS Parcel Viewer
This ArcGIS Web Mapping Application is a simple parcel viewer, displaying parcels and ownership information. GIS Acres are also included as part of the parcel information.
Open the ArcGIS Parcel Ownership Viewer, and start mapping.