Remote Sensing Software ENVI Tutorial
Introduction
ENVI is a image processing and analysis software, launch in 1994. Basically it's used for Remote sensing application.
ENVI used by image analysis, GIS professionals and scientists to extract timely, reliable and accurate information from geospatial imagery. It's supports more than 200 different types of data.
it is easy to share maps, reports, presentations and other geospatial products in virtually any environment. ENVI can be saved directly to a local file, a geodatabase or to another server environment as image files, shape file, or Microsoft PowerPoint files.
Uses of ENVI
Use ENVI to fuse radar, LiDAR, SAR, optical, hyperspectral, multispectral, stereo, thermal and/or acoustic data to exploit the strengths of each sensor and create rich geospatial products for informed decision making.
Its works with any size data set and has automated tools to quickly and easily prepare big and small imagery for viewing or further analysis.
Using ENVI to perform batch processing or effortlessly create custom image processing workflows without having to write a single line of code.
Download ENVI Software
Now Download the ENVI Remote Sensing Software, and install it.
ENVI Tutorial
Once you have installed remote sensing software ENVI, now it's use for different geospatial applications.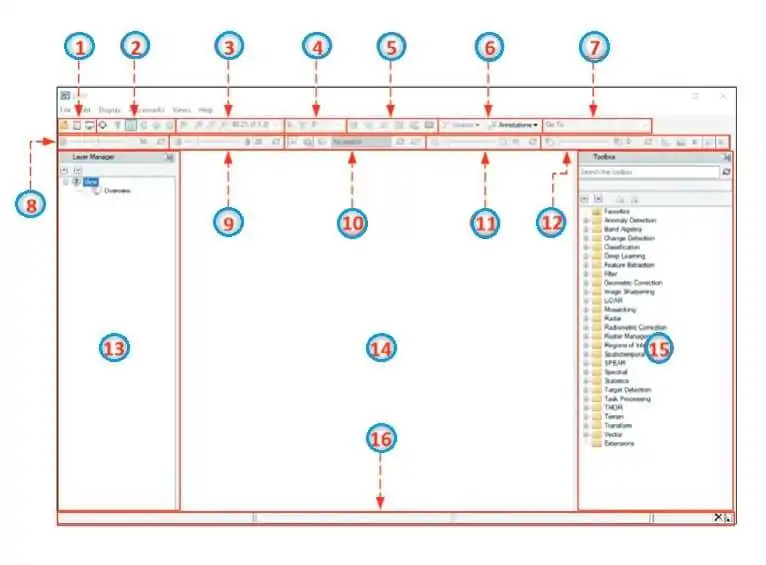 1. Open file, Data Manager, Chip to
PowerPoint (Report Generation)
2. Scroll View, Cursor Value, Select,
Pan, Fly, Rotate
3. Zoom, Fixed Zoom In/Out, Full
Extent, Percent/Ratio
4. North Up, Type or Preset Angle
5. Arbitrary/Spectral Profile, Scatter
Plot, ROI, Feature Count
6. Digitizing, Vectors, Enhanced
Annotations
7. Go To Coordinate
8. Brightness
9. Contrast
10. Histogram Stretch
11. Sharpen
12. Transparency, Mensuration
Portal, Blend, Flicker, Swipe
13. Layer Manager
14. Data Viewer/Image Window
15. Toolbox
16. Cursor Value, Status Bar
ENVI Classic tutorials and associated data files are available from ENVI official website, learn all ENVI Tutorials.