ArcGIS Pro Help
ArcGIS Pro is the application for creating and working with spatial data on your desktop. It provides tools to visualize, analyze, and share your data.
Arc Pro help is provided through an online help system, and also offline help system. If you can't access either system, a compact version of the help system can be used instead.
It is also provided on the user interface in the form of ScreenTips, messages, and pop-ups.
Open the Help Center
You can open the help of different ways:
In the upper right corner of the application window, click the View Help button
On the start page, click Help
Open the project, click the Project tab to open the Settings page. On the Settings page, click the Help tab on the left.
Help Source
By default, ArcGIS Pro uses the online help system. If you work offline you can change the help source to the offline help system.
The offline help system access only for ArcGIS Pro desktop version. See Download ArcGIS Pro for more information
1. Open the ArcGIS Pro Settings page in either of two ways:
On the start page, click the Settings tab .
Open the project, click the Project tab on the ribbon.
2. In the settings list left side, click Options.
3. On the Options dialog box, under Application, click General.
4. Under Set general options for ArcGIS Pro, expand Help source and click an option:
Online help from the Internet.
Offline help from your computer (requires local help installation).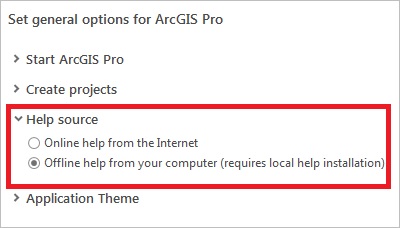 5. Finally click OK button.